Republican Party's Not Fighting Gay Marriage, Says Potential Republican Presidential Candidate Scott Walker
Wisconsin Governor and potential 2016 presidential candidate Scott Walker suggested that the GOP has no interest in making its opposition to gay marriage the forefront of its platform.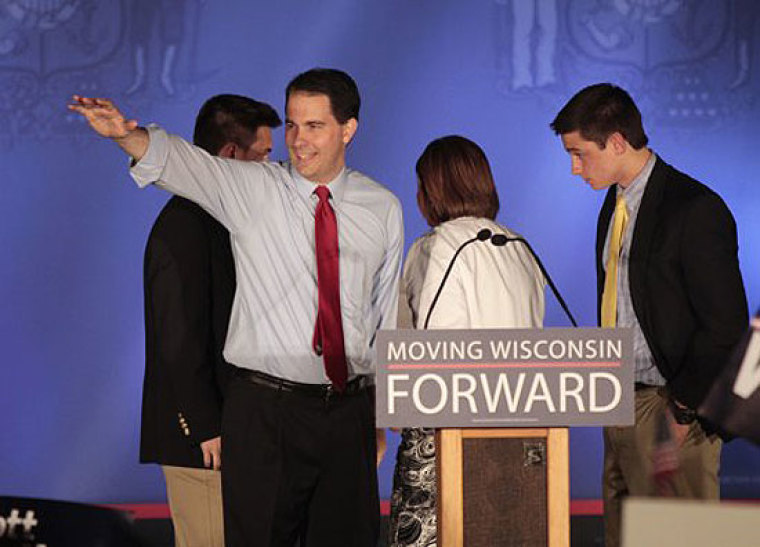 "I don't think the Republican Party is fighting it," Walker, who is running for re-election this fall, told the Associated Press on Saturday. "I'm not saying it's not important. But Republicans haven't been talking about this. We've been talking about economic and fiscal issues. It's those on the left that are pushing it."
Gay marriage is currently legal in 19 states. While courts have overturned gay marriage state bans in nine other states, appeals are currently in progress. Wisconsin passed a constitutional amendment banning gay marriage in 2006, but its ban was recently struck down by a federal judge.
According to the AP report, when asked about the administration appealing the judge's decision, Walker "explained his court appeal simply as his obligation as governor to defend the state's constitution."
Earlier this year, Walker, a Baptist minister's kid, discussed with The Christian Post how his Christian beliefs affected his politics.
"It plays a key role in my life in general, not just in politics. There's not a play card, if you will, that tells me how to vote or how to act on certain issues. So it's not like issue by issue it drives me but the larger context, not only the policy decisions I make, but how I make them, how I interact with people, how I treat people. All of those things are, without a doubt, driven by my faith," he explained.
Walker, who attends an evangelical, nondenominational church, added that his faith leaves him "balanced" and leads him "to be principled and stick to my guns and do what I thought was right."
In May, a Gallup poll showed that nearly one third of Republicans supported gay marriage, with nearly 80 percent of Millennials endorsing it regardless of political party.
CP's Napp Nazworth analyzed whether Republicans were ignoring social conservatives' agenda.
"Scanning at the websites of Republican candidates for the U.S. Senate, for instance, reveals little mention of the issues that social conservatives care about. (See, for instance, the websites of Bill Cassidy, Tom Cotton or Ed Gillespie.) Last month, the Nevada Republican Party made that agenda more explicit by striking all language related to abortion or marriage from its platform," wrote Nazworth.
In addition, "at a conservative conference last month in New Hampshire, three potential 2016 presidential candidates, Sen. Ted Cruz (Texas), Sen. Rand Paul (Tenn.) and former Arkansas Gov. Mike Huckabee, all downplayed the importance of social issues, Buzzfeed reported."