Republican Leaders Look to Repeal North Carolina's Transgender 'Bathroom Bill'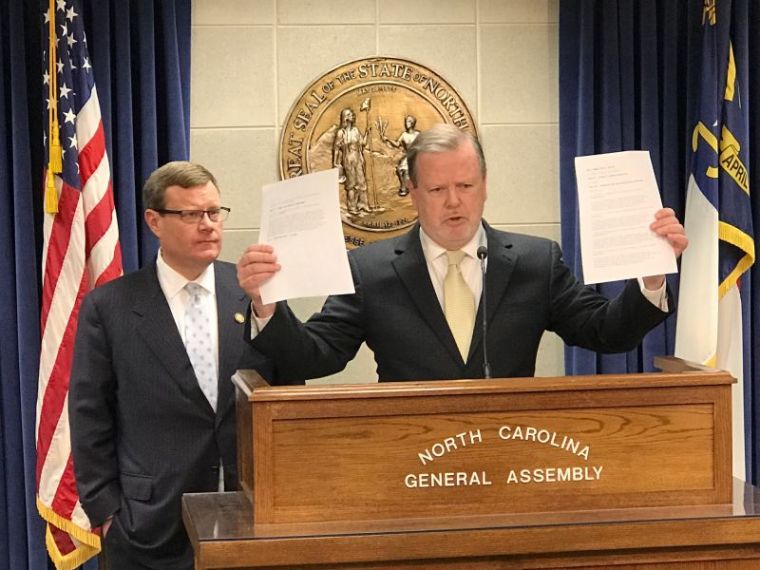 Republican North Carolina Senate Leader Phil Berger and House Speaker Tim Moore agreed in principle Tuesday to a proposal made by Democratic Gov. Roy Cooper that would repeal the controversial House Bill 2 that requires transgender people to use restrooms corresponding to the sex on their birth certificates in public buildings.
In a joint statement made by Berger and Moore, they noted that Cooper's four point proposal would repeal HB2 and guarantee privacy in bathrooms and shower facilities by leaving regulation of multi-occupancy facilities to the state, returning to the status quo prior to passage of Charlotte's bathroom ordinance that women and girls should not have to share bathrooms with men.
It would authorize local governments to pass employment and accommodation non-discrimination ordinances, provided they are consistent with federal employment and accommodation non-discrimination law. And additionally, it would protect the rights of conscience by allowing citizens to collect court costs and attorney fees if they successfully pursue legal action proving a violation of their constitutional rights, as protected by Article I Section 13 of the North Carolina Constitution and the First Amendment.
"We believe the four points in Gov. Cooper's compromise proposal represent a path forward by repealing House Bill 2, protecting citizens' privacy in bathrooms and changing rooms, authorizing local governments to adopt anti-discrimination ordinances consistent with federal law, and providing legal protections for violations of constitutional rights of conscience," the Republican lawmakers noted.
"We believe if the governor can get Democratic legislators to support the principles outlined in his proposal, we can pass a bipartisan bill that will put the distraction of HB2 behind us once and for all," they added.
In a brief statement cited by The New York Times, Cooper expressed support for the proposal expected to be introduced Thursday.
"I support the House Bill 2 repeal compromise that will be introduced tomorrow. It's not a perfect deal, but it repeals House Bill 2 and begins to repair our reputation," he said.
The repeal comes on the heels of a recent Associated Press analysis that said HB2 signed by former Republican Gov. Pat McCrory will cost the state $3.76 billion over 12 years.
As a result of the bathroom bill, companies like PayPal have canceled a 400-job project in Charlotte, CoStar backed out of negotiations to bring 700-plus jobs to the same area, and Deutsche Bank scuttled a plan for 250 jobs in the Raleigh area.
North Carolina also stands to lose hundreds of millions in revenue because the NCAA is avoiding the usually favored host. The group is set to announce sites for various championships through 2022 and North Carolina won't be among them as long as the law is on the books, the AP says.
Some analysts have pointed out that those losses are small compared to the overall North Carolina economy, however, and five different analyses ranked North Carolina the number two, three or five state for business-friendliness. 
Gay rights advocates have raised objections to the proposal, arguing that the compromise would continue to allow discrimination.
"What that means for the L.G.B.T. community is that we continue to be boxed out of nondiscrimination protections," Cathryn Oakley, senior legislative counsel for the Human Rights Campaign told the Times.
She said the compromise would leave lesbian, gay, bisexual and transgender people with no statewide anti-discrimination ordinance and no ability to seek such protections from local government for a number of years.
Chris Sgro, executive director of the gay rights group Equality North Carolina, told the publication that the proposal "keeps North Carolina as the only state in the country obsessed with where trans people use the restroom through law."
Some conservatives are unhappy with the proposed change as well. 
Rev. Mark H. Creech, executive director of the Raleigh-based Christian Action League of North Carolina Inc, argued against making any changes to HB2.
"There is so much at stake in the survival of HB 2. It's about something so much bigger than bathrooms. HB 2 is truly a just law, and its defense is a fight for common sense that must be won for future generations," he wrote in a Tuesday op-ed before the bill was announced.