Rick Warren: 3 Ways to Harness God's Power in Your Life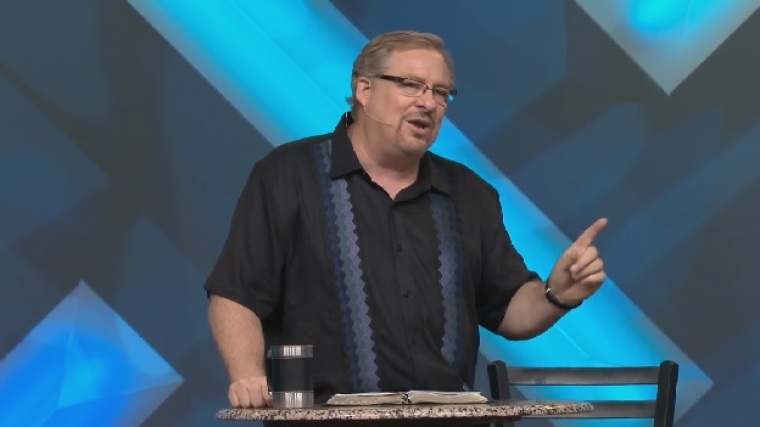 There are three ways to get God's power in your life, Pastor Rick Warren says.
Warren, who serves as the senior pastor of Saddleback Church in Orange County, California, says in his Daily Devotional on Tuesday that God does not bless self-reliant people; rather, he "blesses people who are dependent upon Him and surrendered to Him."
There are three ways to get God's power in your life and live by His will, including praying, obeying Him, and perseverance, the evangelical leader continues.
Warren explains that there is no way to get God's power in your life without prayer, as prayer and power go hand in hand.
Another way to get God's power is by "taking risks to obey God," Warren continues. "When you take a risk to do what God tells you to do, even when it's hard or unpopular, even when it may cost you, even when it doesn't make sense, even when nobody else is doing it, God will pour out his power in your life."
Lastly, Christians can obtain God's power by refusing to give up, even when God tests their faith.
"In order for God to grow your faith, he's got to test it. When you're going through difficulties and delays and dead ends and despair and discouragement, God is teaching you to trust him. Hang on, and God will bless you," the megachurch pastor adds.
Warren has spoken about God's power before, writing in a previous devotional that "there's no way you can fulfill your purpose in life without being plugged in to God's power."
The megachurch pastor adds that we will never be able to accomplish everything we wish to accomplish on our own, and we need God's help in our life.
"You'll never be able to do it on your own. You were never intended to be able to! Anything you can do in your own willpower doesn't require faith, and when faith is not required, we're living faithlessly," Warren says.
The megachurch pastor wrote in a separate post that obedience to God is what unlocks His power in your life.
"[...] the Holy Spirit releases his power the moment you take a step of faith," Warren says, adding that "obedience unlocks God's power."
The best way to connect with the Holy Spirit is to move forward in your life and remain open to God's plan for you.
"God waits for you to act first. Don't wait to feel powerful or confident. Move ahead in your weakness, doing the right thing in spite of your fears and feelings. This is how you cooperate with the Holy Spirit, and it is how your character develops," Warren says, pointing to Ephesians 4:23 which calls on Christians to "let the Spirit change your way of thinking."