Rick Warren: Christians' Top 2 Misconceptions About Marriage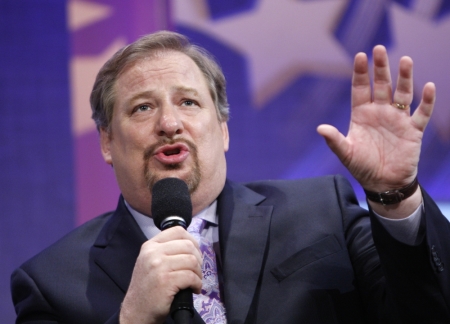 Believing that there is only one perfect marriage match for each person in the world, and that a marriage can survive solely on love, are two major misconceptions prevalent among Christians today, Pastor Rick Warren says.
Warren, senior pastor of the 25,000-member Saddleback Church in Orange County, California, said in his "Daily Hope" bog post on Thursday that one of the most common misconceptions about marriage is that there is only one person for every person in the entire world.
Not only is this belief unbiblical, it's also purely illogical, Warren explains: "If there were only one right person for everybody in the world, it would only take one person to make a wrong decision and break the chain for everybody else."
Warren continues by saying that although God may guide us in finding a spouse, ultimately it is our choice regarding who we decide to spend the rest of our lives with.
"In your life there are multiple people God might say it's okay for you to marry. There are millions that he would absolutely rule out, but there are multiple opportunities that God would say okay to. It's your choice. It's your preference," the pastor says.
It's important to note that along with the gift of choice, God has also given you the gift of grace in your marriage.
"If you're married already, God is at work in your marriage. There's no use arguing you married the wrong person. God will use your marriage to help you grow closer to Him. And, if you're single, engaged, separated or divorced, God is at work in your life and relationships too. His grace is always available, and he loves you unconditionally. You have a future of hope," the religious leader says.
Another common misconception about marriage is that love is all a couple needs to see them through their union.
There are many other aspects besides love to consider when picking a mate, including similar values, a similar upbringing, and a similar commitment to Christ
"Just because you love someone does not mean you should marry that person," the pastor warns.
Warren concludes his message by reiterating that God's gift to believers is choosing when and who to marry, so Christians must use this gift wisely to pick the right partner.
"God doesn't tell you who to marry. But He does give you a description of the kind of person that He desires for you to marry. And, if you're married — regardless of who you married — God is at work, even it you can't see it now," Warren says.
The evangelical preacher has expressed the importance of marriage in one's walk with Jesus before, saying that marriage serves as the perfect tool to strengthen our relationship with God.
"If God's purpose for each of our lives is to make us look more like Jesus, what better tool could He use than the marriage relationship? Who better for God to use to chisel you than the person you live with seven days a week? God is using each of you to shape the other person more and more into the image of Jesus," Warren wrote in a 2014 post.
"God uses your spouse, and your relationship with each other, to form you into an image of Jesus," Warren continues. "Once you understand this, a lot of what happens within your marriage will begin to make more sense."