Rick Warren on 'Painful' 9/11 Anniversary: World Is Getting Darker, Decaying Due to Terrorism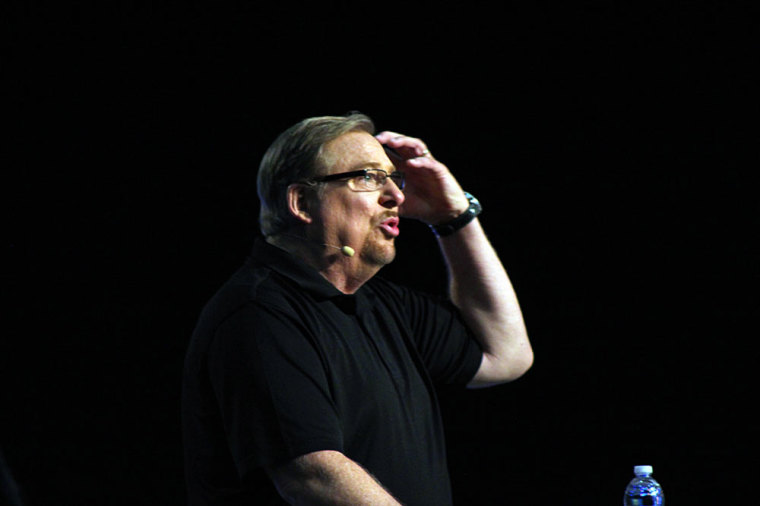 Pastor Rick Warren of Saddleback Church released a video prayer on Sunday, the 15th anniversary of the 9/11 terror attacks, by noting that the world seems to be "getting darker" and "decaying" due to terrorism and other divisions.
Warren said all of America marked "the worst terror attacks in its history" on Sunday, when nearly 3,000 people were killed back in 2001.
The pastor said that while the attacks are fresh in many people's minds, a freshman in high school today was not even born when that occurred, and so as the Bible says, it is important to remember the lessons of the past.
Warren asked God to "help us to remember that you are a God that notices," and prayed that the many who lost loved ones and face a "painful reminder" on the anniversary are able to feel God's comfort.
"God, help us to be light in a world that is getting darker. Help us to be salt, which is a preservative, in a world that seems to be decaying. We beg you to be peacemakers in a violent world. Help us to be courageous, as the world become more fearful," the Saddleback Church pastor asked.
"Every day now we hear of increasing anguish, and increasing suffering around the world due to terrorism. We pray for the literally millions of refugees who have lost their homes, and their businesses, and many of them have lost their health and their entire savings due to the terrorism of evil," he added.
He urged Christians not to give up hope, however, and choose to be bridge builders in a world that he characterized as "divided by racism, bigotry, politics, and so many other things."
The pastor said that just as Jesus Christ forgave Christians, so should Christians be ready to forgive others.
"Help us to be compassionate to everyone, especially to those who deserve it least," Warren asked.
"May our lives be filled with hope, so that we can offer hope to others. May we walk in love in order to overcome all the hatred in the world."
Other major evangelical leaders, such as the Rev. Franklin Graham, also wrote on Facebook that the scars of 9/11 are "still very real."
Graham noted that thousands more have been killed in the global war against terrorism since the 9/11 attacks, with tens of thousands of others injured, but the battle has not yet been won.
"Immediately following the tragedy of 9/11, millions of Americans went to church, some for the first time in years. Do you remember it? There was a nation-wide calling on God, a seeking of His face. A collective crying out to Him for the strength, comfort, and protection only He can provide. How quickly we forget," he wrote on Sunday.
"As individuals and as a nation, we don't need to wait for another disaster to call on God. God hasn't walked away from America, but America has turned its back on Him and His Word. That's a very concerning spiritual state of the union."