Robert Jeffress Thanks God for Trump's Selfless Desire to Be President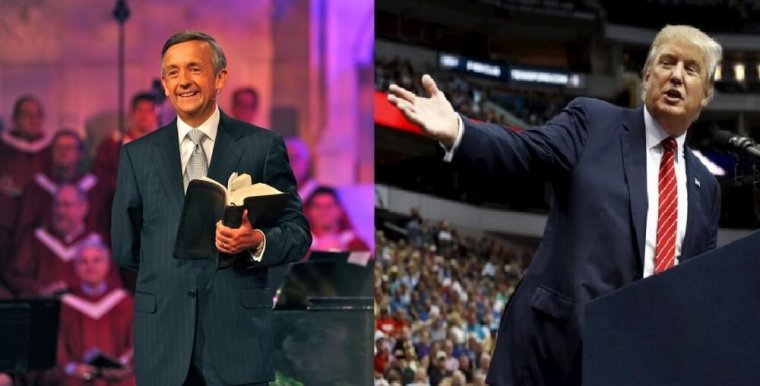 Even though Republican 2016 presidential frontrunner Donald Trump didn't know him at the time, he said a year ago when he saw Texas megachurch Pastor Robert Jeffress on TV, he liked him because he was saying things that the real estate mogul "wanted to hear."
And the like-fest continued Saturday at the Christian Dordt College in Sioux Center, Iowa, where Trump exclaimed "wow!" then called Jeffress "incredible" after he delivered a glowing prayer and introduction of the real estate mogul before his speech at the school.
"Today we come to thank you for Donald Trump, who is willing to selflessly offer himself for service to this nation for no other reason than his desire to make America great again," Jeffress told God.
"Father, we pray a special blessing upon Mr. Trump and his family. We pray for their protection, give them guidance as they seek your will for their lives," he added before invoking the name of Jesus.
He then delivered comments about the billionaire as close to an endorsement as he could.
"Although as a pastor I cannot officially endorse a candidate, I want you to know that I would not be here this morning, if I were not absolutely convinced that Donald Trump would make a great president of the United States," he told Trump's crowd of adulators.
Trump appeared moved.
"Wow," he said after sharing a handshake and hug with Jeffress.
"You know I want to thank the pastor, he is a great man and a great guy. The pastor is an incredible guy," said Trump.
"I watched him on television a year ago and he was talking about me and I didn't know him at that time. And he said look, 'He's gonna be the best leader. He's gonna be the best for the economy, he's going to be the best on ISIS, He's going to take care of ISIS, he's gonna take care of the border and all of the things that I talk about. And he's gonna get rid of Obamacare and give us great healthcare," said Trump.
"And he said, 'He may not be as pure as we think, but he's really good and a great Christian,' and that's what I wanted to hear," the Republican 2016 frontrunner declared.
Jeffress, who leads the 12,000-member First Baptist Church in Dallas, Texas, flew to Iowa over the weekend to introduce Donald Trump at the Dordt College event and appears to have become a good friend of Trump's.
Jeffress, also introduced Trump at his American Airlines Center rally in September. And was also part of a group of prominent preachers who prayed for the real estate mogul at Trump Tower in September as well.
Watch Jeffress' prayer beginning at the 42-minute mark below: