Robert P. George: Victims of Marriage Culture Breakdown Are Poor Children (Video)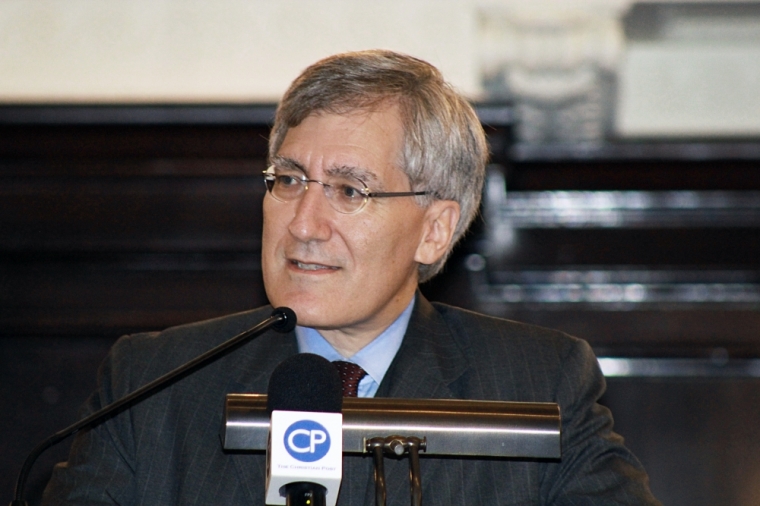 WASHINGTON — Poor people, especially poor children, are the real victims of a declining marriage culture, professor Robert P. George said.
His liberal colleagues often ask, George recalled, why he spends so much time on the politically-charged issue of marriage, rather than spending his time and talents on helping the poor.
His colleagues do not understand, George said, that he is "in the marriage fight, to fight for the marriage culture precisely because I want to fight poverty. Because I want young people to grow up with the kinds of material, moral and spiritual advantages that you have only where there's a healthy marriage culture."
George, McCormick Professor of Jurisprudence at Princeton University, was answering questions after delivering the Institute on Religion and Democracy's 2014 Diane Knippers Memorial Lecture on Oct. 16. The topic of his lecture was gay marriage and religious freedom.
George noted that next year will be the 50 year anniversary of a U.S. Department of Labor report called, "The Negro Family: The Case for National Action." The report is more commonly known as the "Moynihan Report," for its primary author, Daniel Patrick Moynihan, a sociologist who was assistant secretary of Labor at the time and later served as a U.S. senator. The report warned of the devastating effects of the high rates of divorce in poor black communities.
We now know that the breakdown of a culture that upholds marital norms was not race-based, George said. The same effects are seen today in poor white communities.
Same-sex marriage did not cause the breakdown of a marriage culture, George added, it is a symptom of it. Same-sex marriage represents, however, "the final abolition in law of the very idea of conjugal marriage that grounds the norms of marriage, that enables marriage to play its social role."
The fight for marriage is not "some abstract moral thing," George added, it is a fight for the well-being of children, "who are, in the end, the victims of a culture that throws marriage under the bus."