Rock Church Pastor Miles McPherson Highlights 7 Moms in His Life on Mother's Day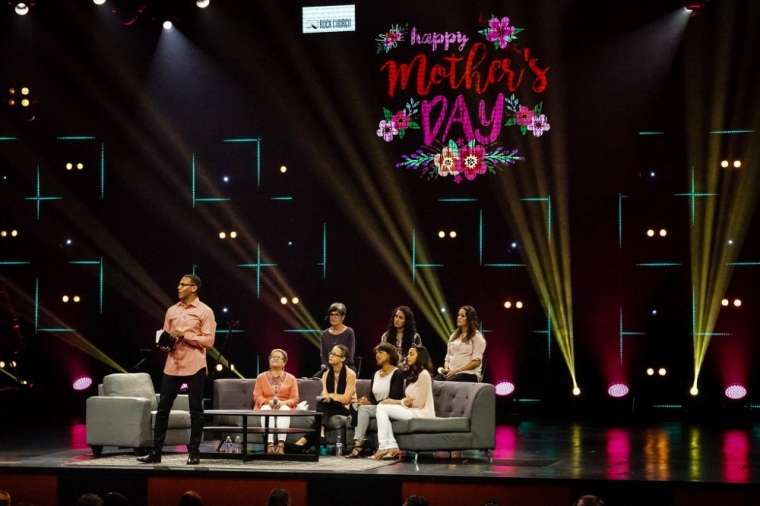 In an inspirational celebration of Mother's Day, Miles McPherson, lead pastor of Rock Church in San Diego, California, presented a kaleidoscope of motherhood through the stories of seven mothers in his life on Sunday.
Among them was his 79-year-old mother, Margaret "Gigi" McPherson, who looked a lot like the quintessential supermom after talking about her life as a mother beginning in the 1960s.
"I had five C-sections in seven years. So they were all very close," she said of McPherson and his siblings.
"When they were in elementary school a typical day would be getting them out of bed … making breakfast, making lunch, taking them to school, going to work for four or five hours 'cause I was a nurse and I worked between all of them. And picking them up from school. Getting them ready for football practice. After I took them there, made dinner and picked them up again from practice. Had dinner, did homework, went to bed and start all over again the next day. And we only had one bathroom," she said.
She then shared a bit of her background as the product of an interracial marriage between two Jamaican immigrant parents who met in New York City.
"My parents were both born in the British West Indies. And my mom is white, my dad is black. When my mom became a young lady her family decided to send her to New York so she wouldn't marry one of the Jamaican fellows. But she came to New York and she found one anyway. And they got married in 1935," she said.
Her mother's family, she explained, did not approve of the relationship with her father so they were cut off from them.
"My mom's family didn't want anything to do with us so I knew nothing about her family. So I would encourage grandparents to share your stories with your grandchildren and let them know about the extended family that they have. It would do a lot for their self-esteem," she said.
McPherson's mother also encouraged parents to listen to their children.
"When I was a little girl, the saying was children should be seen and not heard. And I made it a point in my life to not have that with my children and I decided that I wanted to listen to my children and have them talk. So I would encourage you to talk to your children, not at them," she said.
"If you respect them and start as little children, don't wait until that time … you know it's pretty hard. But if you start young and show respect, they will respect you. They will respect themselves. … My Scripture is, pleasant words are like honeycomb, sweetness to the soul and health to the bones," she added.
McPherson's wife, Debbie, also shared how being raised in a single-parent household affected her and influenced the way she parents.
"I grew up in New Haven, Connecticut, in a single parent home. My dad left my brother and I when we were very little. My mom was a maid in a motel, she worked seven days a week. She worked really hard just to keep food on the table and clothes on our back. There were many nights when she didn't eat dinner and we would ask her why and she would say, 'it's because I ate earlier.' … when in reality it was because there wasn't enough food," said Debbie.
"She really did sacrifice a lot for my brother and I. My mom was also the only white lady in the neighborhood. My brother and I became the subject of much bullying. We learned how to fight at a very young age just to survive. It was pretty bad to the point where we actually had to have police escorts home from elementary school," she said.
"Because of how I grew up, we were very poor, we didn't have a car, bringing groceries home was a difficult task. We would have to pull them home in a field in a carriage and in Connecticut in the winter time it was pretty brutal. This all filled me with a great determination to make my life better. And to get out of that situation. In reality, now I know it was God that was pushing me. It wasn't me, it was Him. Even before I knew Him his hand was one me. And I'm not gonna cry," she said, getting emotional.