Rose McGowan, Leading Voice Against Harvey Weinstein, Has Warrant Issued for Her Arrest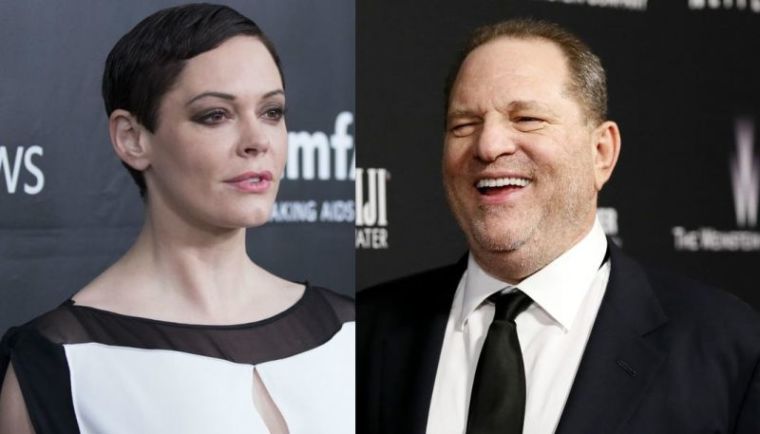 Rose McGowan, one of the leading voices against sexual harassment in Hollywood who claimed earlier this month that disgraced film producer Harvey Weinstein raped her, now has a warrant issued for her arrest.
The actress has dismissed the warrant as "horse----."
An Associated Press report said Tuesday that the warrant for McGowan's arrest stems from a charge for felony possession of a controlled substance.
An arrest warrant has been obtained for actress Rose McGowan for felony possession of a controlled substance. A police investigation alleges that the charge came from personal belongings left behind on a United flight arriving at Washington Dulles International Airport on Jan. 20. The personal items allegedly tested positive for narcotics. A warrant for McGowan's arrest was obtained on Feb. 1, police say, but they have been unable to reach her for approximately nine months.
McGowan is expected to appear in a Loudoun County, Virginia, court and the warrant has been entered into a national law enforcement database, the AP said.
The outspoken actress suggested on Twitter Monday that the warrant is a ploy to silence her.
"Are they trying to silence me? There is a warrant out for my arrest in Virginia. What a load of HORSESH**," she tweeted.
Earlier this month, a New York Times investigation revealed a history of sexual harassment allegations against Weinstein along with settlements he paid. The cases often involved former employees and spanned over three decades up to 2015.
McGowan reached an undisclosed settlement with Weinstein in 1997 after an alleged incident in a hotel room and shared details of what really happened in that incident on Twitter after The New York Times report.
"I told the head of your studio that HW raped me. Over and over I said it. He said it hadn't been proven. I said I was the proof," she wrote in a tweet to Amazon CEO Jeff Bezos. She later confirmed she was referring to Weinstein in an interview with The Hollywood Reporter.
McGowan, who is currently working on a memoir called Brave, told The New York Times through her lawyer last weekend that someone close to Weinstein offered her $1 million in September to sign a nondisclosure agreement.
"I had all these people I'm paying telling me to take it so that I could fund my art," McGowan told The New York Times.
She said she made a counteroffer for $6 million, noting, "I figured I could probably have gotten him up to three."
In the end though she told her lawyer to pull the offer after The New York Times published their report on his alleged sexual harassment.
"I was like — ew, gross, you're disgusting, I don't want your money, that would make me feel disgusting."
Another report in The New Yorker further detailed multiple allegations of sexual assault against Weinstein, including forced oral and vaginal sex.
Other high-profile actors such as Gwyneth Paltrow, Angelina Jolie have since come forward to say that they were sexually harassed by Weinstein.
"I had a bad experience with Harvey Weinstein in my youth, and as a result, chose never to work with him again and warn others when they did," Jolie said in an email to The New York Times. "This behavior toward women in any field, any country is unacceptable."
Weinstein has since been fired by his entertainment company.
The Producers Guild of America has also announced that they have banned Weinstein for life after he resigned before the organization was able to officially expel him.
"As was recently reported, the Producers Guild's national board of directors voted unanimously to initiate proceedings to terminate the membership of Harvey Weinstein. The PGA constitution requires that members be given 15 days' notice before disciplinary action is taken. The guild has received notice that rather than addressing the guild's charges, Mr. Weinstein elected to resign his membership in the Producers Guild," the organization said in a statement.
"In light of Mr. Weinstein's widely reported behavior — with new reports continuing to surface even now — the Producers Guild's national board has voted unanimously to enact a lifetime ban on Mr. Weinstein, permanently barring him from PGA membership. This unprecedented step is a reflection of the seriousness with which the Guild regards the numerous reports of Mr. Weinstein's decades of reprehensible conduct," the PGA said.
Unnamed sources cited by Page Six in the New York Post say Weinstein has been telling friends since the scandal broke "that he was born to take the fall for his behavior in order to 'change the world.' He is resigned to his punishment — as a martyr for social change."
"Harvey believes he is a savior," a Hollywood insider told the publication.
A representative for Weinstein said the report is "absurd."