Roy Moore Denies Teen Sexual Misconduct Allegations: 'It Never Happened'
Republicans Abandon Moore, Call for Him to Drop Out of Alabama Senate Race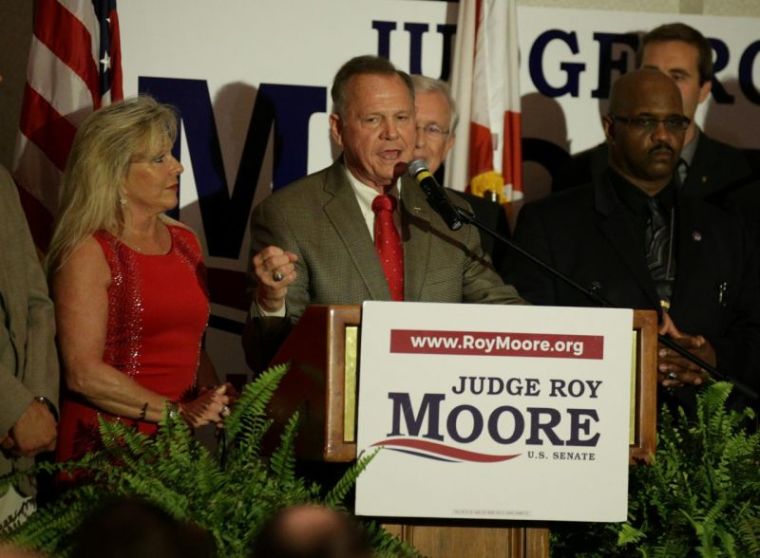 Denying accusations of sexual misconduct, Roy Moore, Alabama's Republican nominee for the U.S. Senate, admits he may have dated girls in their late teens when he was in his 30s, but rebuts claims that he attempted a sexual encounter with a 14-year-old girl. Many Republican senators, however, are calling on him to drop out.
Asked on Sean Hannity's radio show whether he had dated 17- or 18-year-old girls in the late 1970s and early 1980s, Moore said, "Not generally, no. If I did, I'm not going to dispute these things, but I don't remember anything like that."
An Alabama woman, named Leigh Corfman, has accused Moore of initiating sexual encounters with her when she was 14. But he said on the radio show, "I don't know Ms. Corfman from anybody. The allegations of sexual misconduct with her are completely false."
He later added: "This never happened and I don't even like hearing it because it never happened and they're doing this a month away, four weeks away, after 40 years in public service. ..."
Moore also issued a statement denying the accusations, first published in The Washington Post.
"It has been a tough 24 hours because my wife and I were blindsided by an article based on a lie supported by innuendo," he said. "It seems that in the political arena, to say that something is not true is simply not good enough. So let me be clear. I have never provided alcohol to minors, and I have never engaged in sexual misconduct. As a father of a daughter and a grandfather of five granddaughters, I condemn the actions of any man who engages in sexual misconduct not just against minors but against any woman."
Three other women have also come forward, alleging Moore attempted to date them when they were between the ages of 16 and 18 and he was in his early 30s, though they clarified that he did not force them into any sort of sexual contact and dating at that age was not illegal.
Moore earlier argued that the allegations are an attempt to silence Christian conservatives like himself. "The Obama-Clinton machine's liberal media lapdogs just launched the most vicious and nasty round of attacks against me I've ever faced! We are are in the midst of a spiritual battle with those who want to silence our message," Moore said in a statement.
About 30 GOP senators are calling on Moore to drop out, according to Fox News.
Among those saying that are Senate Majority Leader Mitch McConnell, R-Ky., and Sens. Rob Portman, R-Ohio, Susan Collins, R-Maine, Steve Daines, R-Mont., Mike Lee, R-Utah, Lisa Murkowski, R-Alaska, and David Perdue, R-Ga.
Sen. Mike Lee wrote on Twitter, "Having read the detailed description of the incidents, as well as the response from Judge Moore and his campaign, I can no longer endorse his candidacy for the U.S. Senate."
Tony Perkins, president of the Family Research Council wrote on Twitter Friday, "The allegations reported by the media against Roy Moore are beyond disturbing and, if true, would disqualify him or anyone else engaged in such behavior from holding a position of public trust."
The National Republican Senatorial Committee has severed ties with Moore, according to The Washington Examiner.
NRSC Chair and Colorado Sen. Cory Gardner, who endorsed Moore in late September, called the allegations against Moore "deeply troubling."
"If these allegations are found to be true, Roy Moore must drop out of the Alabama special Senate election," Gardner said in a statement.
The conservative publication National Review has also called for Moore to drop out.
"There is almost certainly no way to independently confirm them, and Moore denies them strenuously. But the allegations are credible. There are four women who spoke on the record," the editors wrote. "Roy Moore is not a worthy standard-bearer for the Republican party, and his vulnerabilities are now endangering what should be a completely safe Senate seat."
White House Press Secretary Sarah Huckabee Sanders told reporters, "Like most Americans the president believes we cannot allow a mere allegation, in this case one from many years ago, to destroy a person's life. However, the president also believes that if these allegations are true, Judge Moore will do the right thing and step aside."