Roy Moore's Most Pathetic Argument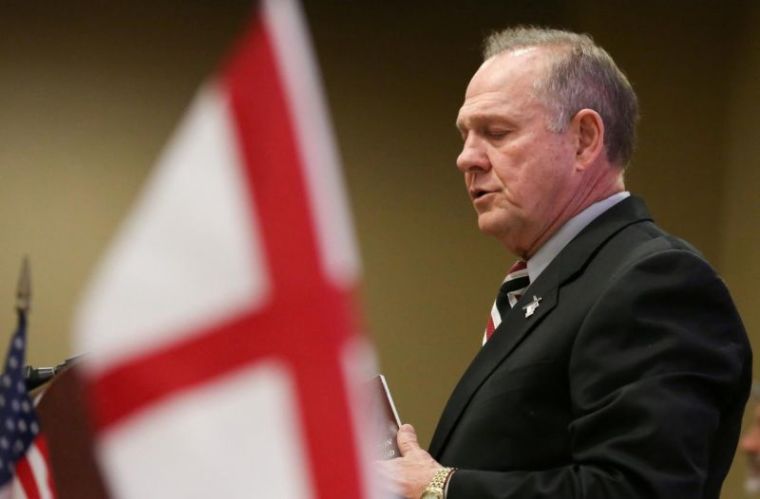 Roy Moore and many of his supporters argue that the sexual misconduct allegations against him aren't credible because the alleged events occurred 30 to 40 years ago. That's pathetic. Here are three reasons why.
1) U.S. Senate races get more scrutiny.
U.S. Senate races receive much more attention than state-level races. This is Roy Moore's first attempt to win a federal office seat.
Tax reform, Obamacare repeal, border wall and infrastructure spending — the outcome of all these depend, in part, on the makeup of the Senate. This means that interest groups and the media will devote more attention to the race. This is also why The Washington Post would devote more resources now to investigating Moore's past, rather than, for instance, when Moore ran for the Alabama Supreme Court.
One could argue that The Washington Post was motivated by its liberal bias to investigate Moore's past. I agree. But that doesn't make the allegations false.
2) The women had good reasons to not come forward.
Women who experience sexual harassment almost universally say it's difficult to share their experience publicly. They speak of feeling shame and embarrassment.
Leeann Tweeden, for instance, spoke Friday about why it took her so long to reveal the sexual misconduct she experienced at the hands of Sen. Al Franken. "It's embarrassing, it's humiliating, ... there are still people ... blaming me for it ... somehow it's my fault."
Leigh Corfman, who alleged that Moore molested her when she was 14 and he was 32, spoke similarly in a Monday Today Show interview. "I felt guilty. I felt like I was the one to blame. It was decades before I was able to let that go."
Corfman noted the she did tell friends and family at the time, which The Washington Post corroborated. When she was older and Moore was a rising star in Alabama politics, she avoided going public because she was concerned about how that would affect her young children. When her kids were older, in junior high, Corfman said they had a family meeting and decided together not to go public because her kids feared "being castigated."
Corfman only came forward now because The Washington Post asked her to and because the publication also found additional victims. She wasn't seeking the attention. She's not getting paid. She's a Republican, so she's not politically motivated. She doesn't know the other accusers. In other words, her accusations are credible.
Another explanation for why women are coming forward now is that women who have experienced sexual harassment currently feel empowered. We are in a cultural moment, which started with the Harvey Weinstein scandal, where women who have long kept their harassment secret are telling their stories. The Moore accusers are part of that cultural moment.
3) Roy Moore is not credible.
According to Moore's defenders, the eight women who have accused Moore are not to be believed, even though dozens have corroborated their stories, they don't know each other, they aren't anonymous, they aren't getting paid, and many are Republican and thus not politically motivated.
Moore, on the other hand, has already offered contradictory and misleading testimony.
In his Nov. 10 radio interview with Sean Hannity, Moore didn't deny dating high school girls when he was in his 30s.
"You understand this is 40 years ago after my return from the military, I dated a lot of young ladies. I do recognize, however, the names of two these young ladies, Debbie Wesson and Gloria Thacker ...," he first said.
When Hannity pressed further and asked if he had dated 17- or 18-year-old girls when he was in his 30s, Moore answered, "Not generally, no. If [I] did, you know, I'm not going to dispute anything but I don't remember anything like that."
When asked about Debbie Wesson Gibson, who claims she dated Moore when she was 17, Moore answered, "I don't remember going out on dates. I knew her as a friend. If we did go on dates then we did. But I do not remember that."
When asked another time if he dated any girls in their late teens, Moore answered, "I don't remember that and I don't remember ever dating any girl without the permission of her mother. And I think in her statement she said that her mother actually encouraged her to go out with me."
When Hannity asked, "Can you say unequivocally you never dated anybody that was in their late teens like that when you were 32?" Moore equivocated.
"It would've been out of my customary behavior," Moore answered.
None of these answers are a denial.
It was only after the interview that Moore offered a blanket denial through a written statement. "I adamantly deny the allegations of Leigh Corfman and Beverly Nelson, did not date underage girls, and have taken steps to begin a civil action for defamation. Because of that, at the direction of counsel, I cannot comment further," Moore wrote in a letter to Hannity.
Moore is not a credible witness.