Russell Moore Blasts Russia's Attempt to Promote 'Pro-Family' Values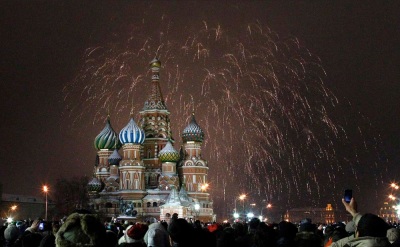 Russell Moore spoke out adamantly against Russia's attempt to paint itself as a champion of traditional values.
"I have heard over the past couple years, many, many times, Vladimir Putin and his regime, seeking to lecture America and the rest of the world about family values and I'm just not buying it," the President of the Southern Baptist Ethics & Religious Liberty Commission, said on a podcast released on Wednesday.
Moore, who along with his wife, have adopted two sons adopted from Russia, addressed the topic in light of the Sochi Winter Olympics and a Washington Times article headlined "Who's 'godless' now? Russia says it's U.S."
"It really kind of makes my blood boil when I hear Vladimir Putin claiming to be pro-family values," said Moore, who proceeded to point out the country's high abortion rates and lack of "adoption culture."
"I'm not buying a country ... that has the sort of rampant abortion rate that Russia has. The sort of country that has orphanages filled with children, not allowing other countries to adopt," said Moore. (Russia passed a law in 2012 that banned Americans from adopting its children and last week passed a law banning gay couples and singles from countries where gay marriage is legal from adopting their children.)
"[There's] nothing being done that I'm seeing being done in Russia to encourage [Russians to adopt.] So you have children that are languishing in orphanages, they're aging out of the orphanages, and then they're just left to fend for themselves, often in prostitution, or substance abuse or even suicide. Don't tell me that that's pro-family values," he added.
Moore said that Christians should we be wary of taking the "stance that the enemy of our opponents' is our friend."
"Just because somebody says, 'We think that some things that you think are bad are bad too, so we're going to use the power of the state to run those people out of here' — that is not a Christian ethic," he said. "The scripture does not give us a KGB to seek to maintain biblical Christian ethics. It gives to us the sword of the Spirit, which is the Word of God."
Moore also attacked Russia for backing Bashir Al-Assad's government in Syria, which in August allegedly used chemical weapons on civilians.
"Remember that Russia and the Russians are the ones supporting, behind the scenes, what's happening in Syria, a regime that's gassing children. Don't tell me that that's pro-family values," he said.
Moore also called out the Russian Orthodox Church for being complicit in the Kremlin's anti-human rights stance.
Despite "heroic figures in Russian Orthodox life," "the Russian Orthodox church has historically often lined itself up with the government," he said.
"I am very nervous when any government starts using Christian terms evacuated of Christian content for political purposes," said Moore.
"This is that sort of 'Constantinian temptation' that we see over and and over and over again in the history of the church. People that want to use the language of Christianity, but without any real concern for the content of Christianity to use as a political tool. That's not what the gospel of Jesus Christ is all about," he added.
Moore did not address Russia's position toward its LGBT population, including 2013 legislation that banned the distribution of "propaganda of non-traditional sexual relations" among minors, and made it illegal for citizens to organize gay pride events or equate gay relationships to heterosexual relationships.