Russell Moore Condemns Alt-Right 'White Lives Matter' Rally as Idolatry, Devil's Agenda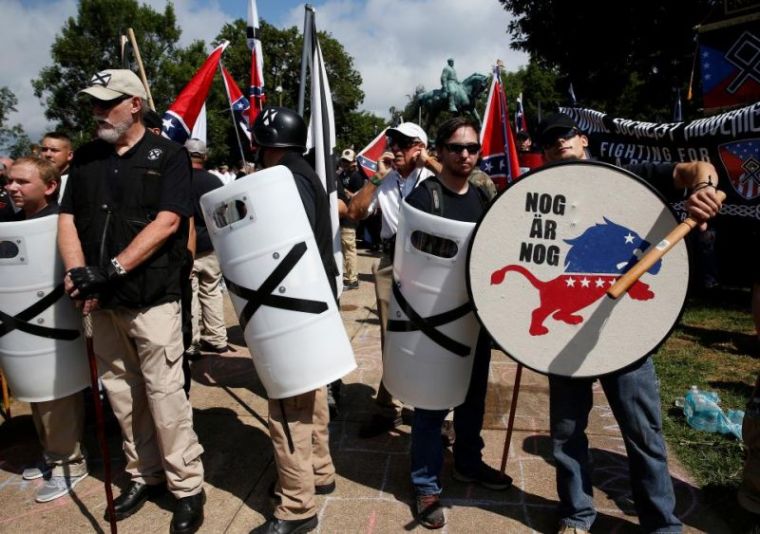 Southern Baptist ethicist Russell Moore is speaking out against the upcoming "White Lives Matter" rally in Tennessee that will be attended by white supremacist groups, declaring that racism is in step with the devil's agenda on Earth.
"Racism does what as a Christian I believe the devil exists to do: to kill and to destroy and to exalt the idolatry of self. If we cannot call this what it is, we will sow in cowardice what we will reap in violence," Moore wrote in an op-ed in the Tennessean published on Wednesday.
The president of the Ethics & Religious Liberty Commission of the Southern Baptist Convention said that Americans should work to "address structural and systemic inequalities that hinder full participation in the American promise by people of color."
"Americans of many different religions, and of no religion at all, should stand together on at least this: that all men are created equal, and endowed by their Creator with certain unalienable rights," he added.
An alliance of white nationalist groups are planning to gather on Saturday in Murfreesboro and Shelbyville under a "White Lives Matter" rally, much like they did back in August at the controversial demonstrations in Charlottesville, Virginia.
The rally is being organized by members of the Nationalist Front, which include groups such as the National Socialist Movement, Traditionalist Worker Party, League of the South, Vanguard America, White Lives Matter and others.
Brad Griffin, a League of the South member and popular white nationalist blogger, said that Saturday's protest is aimed at standing up to the resettlement of refugees in Middle Tennessee.
Members of Antifa, a violent group that claims to be "anti-fascist," are expected to hold counter protests, though Griffin said that the Nationalist Front groups expect that law enforcement agencies will keep counter-protesters back and prevent the sort of violence seen in Charlottesville.
Violent clashes broke out between Antifa and white nationalist groups in Charlottesville after police were reportedly given orders to stand down, according to the ACLU. Later in the day, 20-year-old James Alex Fields Jr. drove his 2010 Dodge into a crowd of counter protesters and sent bodies flying, a scene that was caught on camera. The vehicular assault killed Heather Heyer, 32, and injured 19 others.
Fields is believed to have been at the rally with Vanguard America, a self-proclaimed anti-Semitic national socialist group.
Moore said that the planned marches in Tennessee will be "marked by vile displays of bigotry intended to induce fear and stir up hatred."
He urged the Church to recognize that white supremacy is a problem that will not go away, and called it not only backward, but "devilish."
The ethicist called on churches to live out the unity of the Gospel and form one another's consciences.
"This means congregations must know one another as brothers and sisters, and learn not just to love one another but to listen to one another," Moore urged.
"Our churches should point us away from carnal divisions and toward what Martin Luther King Jr., called the 'beloved community' and toward what our Lord Jesus himself called 'the kingdom of God,'" he added.
"Many things divide us in this country. The Church should be a signpost for what it means for people to be united not by the blood of their ancestors but by the blood of their Savior."
In similar remarks back in June, Moore called white supremacy and racism "anti-Christ doctrines," declaring that the ERLC is "focused intensely on racial reconciliation."
Southern Baptists "must have the clarity and courage to apply the Gospel to the anti-Christ doctrines of blood and soil racism and white supremacy," Moore said at the time.
In September, Moore and a coalition of prominent evangelical leaders, including Southern Baptist Convention President Steve Gaines and Bishop T. D. Jakes, urged President Donald Trump to condemn the alt-right movement as "racist, evil, and antithetical to a well-ordered, peaceful society."
Trump had already condemned white supremacist hate groups at a news conference in August when he said: "Racism is evil — and those who cause violence in its name are criminals and thugs, including KKK, neo-Nazis, white supremacists, and other hate groups are repugnant to everything we hold dear as Americans. Those who spread violence in the name of bigotry strike at the very core of America."
However, since he added that "there is blame on both sides" for the violence in Charlottesville and "not all of those people were neo-Nazis. Not all of those people were white supremacists," his comments were perceived by many as giving the alt-right a pass.
The Southern Baptist Convention, whose members passed a resolution at their annual meeting in June condemning white supremacy, also called on Trump not to shy away from making it clear he opposes the alt-right movement.
"Alt-right ideology does not represent constitutional conservatism. The Constitution promotes the dignity and equality of all people. It maintains that we all have the ability to contribute to a just and free society. ... We request upon you to join with many other political and religious leaders to proclaim with one voice that the 'alt-right' is racist, evil, and antithetical to a well-ordered, peaceful society," they said.