Russell Wilson Reacts to First Week of Fatherhood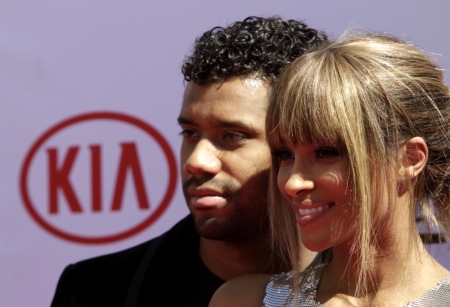 Now that Russell Wilson is officially a dad, reports are surfacing about how the Seattle Seahawks quarterback is handling fatherhood.
"He has been sending photos of his baby girl to all his close boys. He keeps gushing about her," a source told E!. "He jokes and says, 'I will never let her out of my sight.' He is very protective."
The Wilsons welcomed their first daughter together, Sienna Princess Wilson, on April 28. Although the pair are raising Ciara's son, Future Zahir Wilburn from a previous relationship with rapper Future, Sienna is Wilson's first biological child.
According to E! sources, the pair are keeping their bond strong, reportedly leaning on their faith in God.
"[Russell] is behind and supportive of Ciara in so many ways," the insider explained. "Their connection is unbreakable. He is very into God and believes they were destined for each other."
Before the baby and their marriage last year, Wilson said he believed God gave him a vision to lead Ciara. In a Q&A session with Pastor Miles McPherson at The Rock Church, Wilson described how he presented an idea to the entertainer before they began dating seriously.
"I asked her 'what would you do if we took all that other stuff off the table and did it Jesus' way, no sex?" Wilson had asked Ciara. "I knew God had brought me into her life to bless her and for her to bless me and to bless so many people with the impact that she has and I have. We're not going to be perfect, by any means."
He went on to add, "But He's anointed both of us and He's calling for us to do something special."
In an interview with Essence magazine last year, Ciara revealed that she asked God to send her someone like Wilson who shared her faith.
"I remember telling my friend the kind of guy I wanted: a God-fearing man with a very fun spirit who loves kids and would really, truly care for me," Ciara told Essence Magazine as the May 2016 covergirl. "I was very specific because I do believe you can have it all."