Sadie Robertson Admits Stress Has Gotten the Best of Her, Is Fixing Her Eyes on God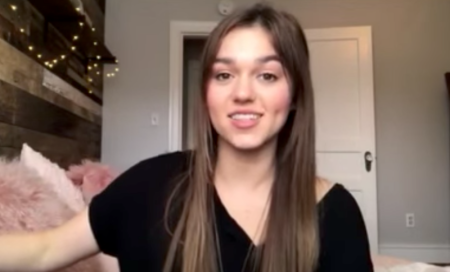 Former "Duck Dynasty" star Sadie Robertson says she's been battling stress but is fixing her eyes on God. 
"Y'all I'm going to be real ... stress has been knocking at my door lately," said Robertson who rose to fame on her family's former A&E reality TV series, in an Instagram post to her 3.1 million followers on Tuesday.
"I have to intentionally remind myself to fix my eyes," she added. "When walking out our purpose in life there is a process to go through to get to the promise that God has for us. In the natural that process can look really hard at times and even seem impossible, but in those moments you must FIX YOUR EYES, maintain your focus on hope, and walk in faith." 
She told her followers that all the God's promises have a purpose and when they come it will be so "worth the process."
The 21-year-old likened the process to sports training.
"Training is not always easy, but it's necessary. Take note of the training times, because the very proof that you are walking out the purpose and into a promise of what God has for you is the TRAINING that you're enduring. When you get tired... when you get stressed... when you feel weak.... when you feel alone... FIX YOUR EYES," she said.
Robertson then spoke about Jesus and the example He set for believers. She explained that because of His love for mankind, He endured the agony of the Cross and conquered its humiliation, and now sits exalted at the right hand of God's throne.
She concluded her pep talk by quoting Hebrews ‭12:2, 5–6, which says: ‬"My child, don't underestimate the value of the discipline and training of the Lord God, or get depressed when he has to correct you. For the Lord's training of your life is the evidence of his faithful love. And when he draws you to himself, it proves you are his delightful child.'"
Earlier this year, Robertson released her book Live Fearless: A Call to Power, Passion, and Purpose. The book was meant to encourage readers to live their full potential despite the attacks that come their way. She even used the premise of her book to create a four-day devotional on the YouVersion Bible app.
"Sadie will inspire and encourage you, as each day she shares one of her favorite Bible passages, then challenges you to push through your fears and anxieties, to break into the life of purpose that God has for you," a description of the devotional states.
Robertson has long been speaking about conquering her fears by connecting with God. Like her most recent post, in 2015 she said that serving the Lord has helped renew her mind and overcome the spirit of fear.
"I decided that's enough. I am a fearless child of God. I will not fear, because I serve The God who has conquered all fear," she wrote on Instagram. "I'm proud to permanently have a reminder that I have nothing to fear. I am fearless in the Name of Jesus."