Sadie Robertson Huff's 'Life Just Got Real' to become scripted TV series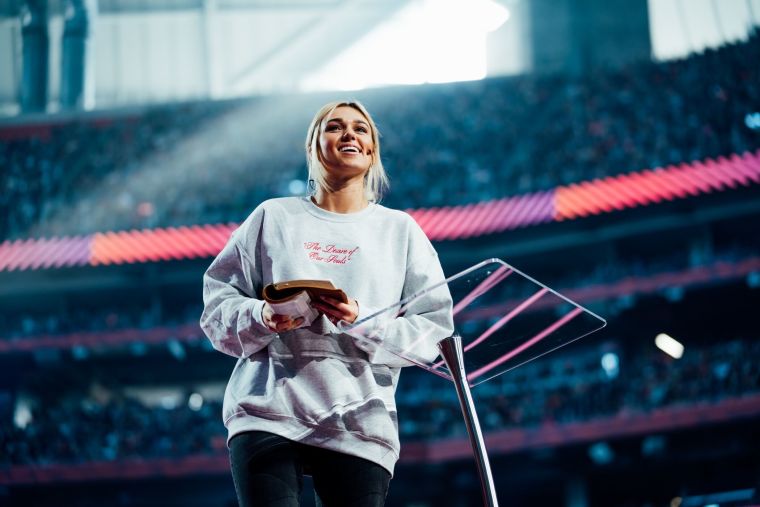 "Duck Dynasty" star Sadie Robertson Huff announced that she signed a deal with producer Brad Krevoy to turn her novel, Life Just Got Real, into a scripted series.
"I really can't believe my fiction book is about to come to life as a scripted series! feeling incredibly grateful," Robertson Huff celebrate on Instagram. "As always ALL glory to God and I pray God would use this show as another way to encourage people in their everyday life and bring family and friends together."
According to Deadline, the "Dancing With the Stars" alum will serve as a producer of the series which will follow the "lives of two high school girls, both with drastically different backgrounds, who join a reality TV show only to realize that life is messy, love is hard, and second chances don't come around every day."
Along with producing, Robertson Huff will make guest appearances on the TV series.
Krevoy is known for producing eight seasons of the Hallmark channel's highest-rated cable series, "When Calls the Heart," along with several films, including "The Princess Switch," "Operation Christmas Drop" and "A Christmas Prince" and "Dumb and Dumber." 
"I am so excited to jump into the world of scripted television, and to be doing it with Brad [Krevoy] who has been producing positive, inspirational entertainment for years," Robertson Huff shared in a statement. "My hope is that this would be an encouraging show for people to watch together that has an inspirational message woven within. I can't wait to get started!"
"The series is being developed with Alfonso H. Moreno attached to showrun and Amanda Phillips and Krevoy's MPCA set to executive produce," Deadline reported. 
Krevoy told Deadline: "We are thrilled to be partnering with Sadie. Her energy and vision are one-of-a-kind and we have no doubt that this show will be a huge success. There is a tremendous audience that is hungry for Sadie's special brand of family entertainment — and we're proud to be the ones delivering this content."
Robertson Huff's first book, Live Original: How the Duck Commander Teen Keeps It Real and Stays True to Her Value, became a New York Times bestseller.  Her fiction book, Life Just Got Real, was published in 2016. 
She told Fox News in a previous interview that writing "these books [is] really healing for me because it's me learning how to deal with whatever problem I'm going through at the time, through faith, through my scriptures, through God, and then writing about them, because I know that other people can probably relate."