Satan Can Make Christian Right Successful, But to Destroy the Church, Russell Moore Warns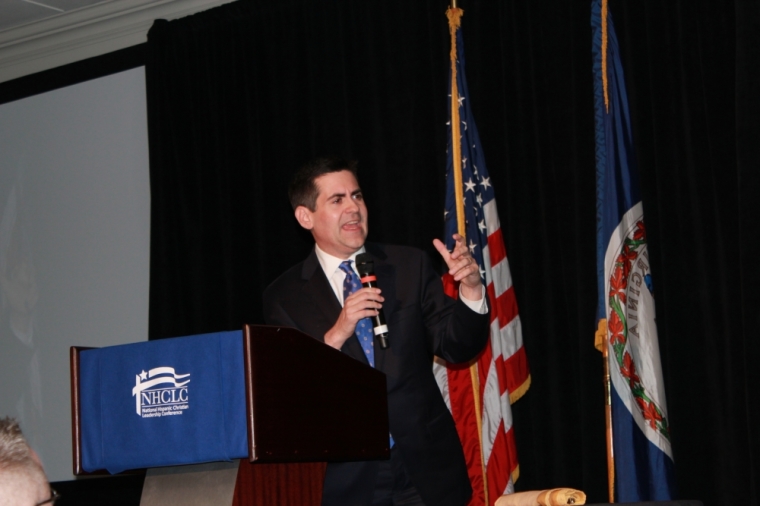 WASHINGTON – Satan can give the Christian Right all its goals and still destroy the church from within, Russell D. Moore, president of the Southern Baptist Ethics & Religious Liberty Commission, declared at the National Hispanic Christian Leadership Coalition's "Justice Summit." Moore, an advocate for Christian values in politics, warned that outlawing abortion, protecting marriage, and defending morality is not enough.
"It would be a shame, you might even say it would be devilish, to be people with values right side up and crosses upside down," he said. Focusing on Jesus' temptation in the wilderness from Matthew 4, Moore warned that valuing anything more than the Gospel of Jesus Christ can easily become the church's undoing.
In explaining this threat, Moore turned to a child custody dispute involving a Satanist. In that case, the Satanist called on his Satanic priest to testify on his behalf. The priest explained that they don't worship the devil, but "what we believe in is the worship of the ego and the power of the self." He pointed to the upside down cross as "the reversal of all those things we find so weak in Christianity: humility, meekness, gentleness, crucifixion."
"It's hard to imagine a more biblical definition of devil worship than an exaltation of the self, an exaltation of the ego, and a tearing down of that countercultural sign of the cross," Moore argued. This pride – doing things our way instead of following God's plan – he denounced as the essence of sin, and he pointed to Jesus' temptation in the wilderness to prove it.
In Matthew 4, "Jesus is tempted with good things," Moore explained. For Jesus, eating bread, being vindicated by the Father, and to be given all the kingdoms of the world are all good things, but the Devil offers them in his own way, by his own power, and through his own direction. "The Devil isn't trying to test Jesus, he's trying to adopt him," Moore quipped.
In that moment, Moore argued, Satan is willing to give up his entire kingdom of evil, pain, and death for two seconds of adoration. If Jesus took the deal, Moore explained, there would be no disease or genocide, no Nero, Napoleon, or Stalin, no abortion clinics or porn sites, no torture and no human trafficking. "That sounds like paradise, doesn't it? But you and I would be in hell right now," he explained.
"Satan is not afraid of Christianity; Satan is not afraid of values; Satan is not afraid of justice alone," Moore argued. Instead, "what Satan is afraid of is the Gospel of Jesus Christ." Satan would be willing to let the Christian Right outlaw abortion, strengthen the family, help the poor become rich, and fix the immigration system so long as he could trap the church with politics. "Satan does not care if we have family values, as long as all that we ultimately care about is the family," Moore added, chillingly.
Moore did not call for a withdrawal of Christians from politics – far from it. "If you and I do not work in the Congress and in the courts for those hurt by a brutal abortion culture, by a horrific pornography industry, by a train-wreck immigration system, for all of the other injustices that we see around us," Moore warned, "it is because we do not really love the people who are around us and we do not care about their flourishing." He asserted that it is the duty of Christians to advocate for these things.
"Let's join in coalitions, let's work on Capitol Hill, let's work in the state legislatures, but let's not stop with public justice," Moore urged.
"Satan will give us justice; Satan will give us influence; Satan will give us morality; Satan will give us whatever it is that we want as long as we fall down and do it his way without pointing to the blood of Christ," Moore concluded. The Christian Right should not succeed by being right but no longer being Christian. "It would be a shame, you might even say it would be devilish, to be people with values right side up and crosses upside down."