Only Thing That Can Reshape America Is 'Spiritual Awakening' Sparked by 'Extraordinary Prayer' Says SBC President Ronnie Floyd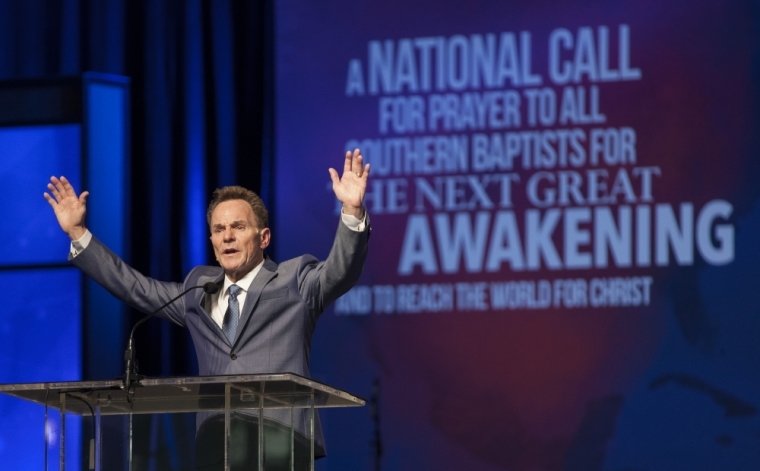 In fervent prayer at the Southern Baptist Convention's annual meeting in Columbus, Ohio, Tuesday night, the organization's president, Ronnie Floyd, said the only thing that can reshape America is a "spiritual awakening" preceded by "extraordinary prayer."
"The only thing that can reshape America is the next spiritual awakening and the next move of God," said Floyd, who's also senior pastor at Cross Church in Springdale, Arkansas. "When you look at it historically, there is no great movement of God that is not first preceded by the extraordinary prayer of God's people."
Floyd, whose prayer came after SBC music director and global worship pastor Julio Arriola led a session of worship, then explained what he meant by "extraordinary prayer."
"What is extraordinary prayer? It is praying beyond the ordinary. When was the last time you gathered with thousands on a Tuesday in the summer and prayed for spiritual awakening in the U.S.?" he asked.
"We have full confidence in God and God alone," added Floyd. "God can do more in a moment then you can ever do in a lifetime. It's not coincidental we are here. With God, all things are possible."
The event lasted almost two hours with thousands of people praying for the next great awakening as well as for church growth, acceleration of the Gospel, and the unity of all people in the Gospel. Prayers of repentance for mistrust and pride in the church, prayerlessness, sexual depravity, abortion and the lack of cooperation among the church were also offered.
In a call to pray specifically for racial reconciliation, pastors of differing races also came together for a hug onstage.
"Pray for America, a country that is broken, fragile, divided, where racism and prejudice is ruling," said Floyd. "We will lead the way, modeling true unity that's really only found in the redemption of Jesus Christ. Let's pray for our country to come together."
"Lord, hear our prayer for our country tonight, in the name of Jesus hear our prayer for our nation — that our nation will come together and we as the church of Jesus will be the hope for cities, towns, and relationships. It is only possible because of your redemptive work. It's only found in Christ," he added.
Other speakers during the call for prayer included Ken Whitten of Idlewild Baptist church in Lutz, Florida; Jack Graham of Prestonwood Baptist Church in Plano, Texas; and K. Marshall Williams of Nazarene Baptist Church in Philadelphia.