'Progressive nationalism': Scholars evaluate the state of liberalism in 2021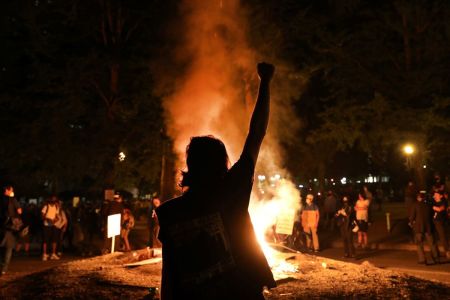 A George Washington University academic and author warned during a recent panel discussion about the acceleration of an "anti-liberal progressive nationalism" that "seeks to impose a highly specific and controversial vision of social order."
Dr. Samuel Goldman, the executive director of the John L. Loeb, Jr. Institute for Religious Freedom and the director of the Politics and Values Program at George Washington University, spoke during a discussion titled "Evaluating Liberalism" hosted by Baylor University Friday.
According to Goldman, "Many of the … challenges to traditional or other religious communities today are not grounded … in liberalism, they're grounded in the abandonment of liberalism in favor of an immersion of submission of private or communal goods to the national public good."
While many in the United States have come to associate the term "liberalism" with the political left, Goldman explained that "much of the agenda of the modern left is anti-liberal in effect and often also in intention."
Goldman maintained that Christian nationalism, mentioned as a threat to the traditional understanding of liberalism by another member of the panel, was a "far less significant and powerful phenomenon" than "the revival of a non-liberal and even anti-liberal progressive nationalism, which seeks to impose a highly specific and controversial vision of social … order."
Although she did not contend that "cancel culture" was a result of the "anti-liberal progressive nationalism" Goldman warned about, Kristen Johnson of the Western Theological Seminary brought up the phenomenon when describing the idea of "tolerance" as a virtue of liberalism.
She cited cancel culture as an example of how the country may have reached a point where "we're not sure how … to live together with those differences."
"If I think about boycotts that were … in the Civil Rights Movement, [they] weren't to shut down a business, but to garner a level of rights and participation in our civil and political society," Johnson,  an associate professor of theology and Christian formation, said.
"And now it seems like when I look at how boycotts are being used, it's often to shut down a business because of a conviction with which one disagrees. That's not really … the good part of tolerance that I think liberalism was trying to carve out space for."
She praised the idea that "we can allow certain levels of difference to coexist and be OK with that and … view that as a good." Goldman and Johnson's analysis followed the panelists' attempts to come up with a working definition of liberalism.
Dr. David Corey, a political science professor at Baylor University and the director of Baylor's Washington, D.C. program known as Baylor in Washington, served as the panel's moderator.
Corey described liberalism as a "way of doing politics that … competes with socialism on the one hand as a way of thinking about politics and the authoritarian state on the other hand." He asserted that traditional liberalism "values individual freedom and autonomy and formal equality."
William Cavanaugh, the director of the Center for World Catholicism and Intercultural Technology and a professor of Catholic Studies at DePaul University, described liberalism as an ideology that focuses on the "prioritizing of the free over the good."
Proponents of liberalism argue, he contended, that "as a society, we're not going to decide on substantive goods." Rather, he said, they argue that "we're going to prioritize freedom and let everybody decide what they think … is good."
"Most progressives are … liberal" and "most conservatives are also liberal," Corey stressed.
He alleged that both groups have a desire to "adjust some of the rawness of a kind of natural liberal order," with "conservatives wanting to attenuate some of the ways in which liberalism tends to undercut associations" while "progressives may be wanting to attenuate the … tendency towards wealth inequality."
"Liberalism is an attempt — and not always a successful one — to find a middle course between two parallel dangers," Goldman said.
"One is the immersion of the private into the public that is … the subordination of individual freedom to ostensibly shared purposes. The other is the reduction of the public entirely to the private, so it becomes impossible to recognize any purpose or any good that is not derived from individual, unaccountable … subjective preferences."
The GWU professor stated that because liberalism has "emerged historically as a way of preventing the first danger," it is "constantly at risk" of "encouraging or enabling the second danger."
Cavanaugh referred to two of the principles associated with traditional liberalism: "the ideas of religious toleration and the idea that you would take coercive power away from the Church" as "unvarnished goods."
He clarified that "the separation of church and state does not necessarily mean the separation of religion and politics."
The discussion also focused heavily on the contemporary challenges of abiding by traditional liberalism, with Corey conceding that "freedom is actually a very difficult thing to live out."
"It requires self-discipline," the moderator said. "If we're not going to be disciplined by family and by church, then it requires self-restraint and self-discipline if it's going to correlate reasonably … to human flourishing."
"We place such a value on freedom that anything in our culture that exercises restraint upon us, like our churches or like our families, finds itself swimming upstream," he continued. "The project of living a free life … is incredibly demanding. And to expect that all citizens can do this and thrive without restraint is … ideological and utopian."
Cavanaugh recalled how James Madison believed that "You need virtuous citizens to make this experiment work."
Agreeing with Corey that society has to depend on "other kinds of communities to inculcate virtue," Cavanaugh lamented the advancement of "a kind of patriotism and nationalism that in a way substitutes for more traditional forms of belonging."
He stated that the "danger" becomes that people "make a God" out of the "nation" or a "God out of the nation-state." 
"And so, once you've kind of made freedom … the ultimate good and the protection of freedom, a kind of contentless freedom … as the … ultimate good, then that becomes what you kill and die for," the DePaul University professor argued. "And it becomes … a new sort of perverse God. And that, especially for people that believe in a real God, is … a real and present danger … to me."
As the conversation concluded, Goldman called for "a 21st-century counterpart to one of the great efforts of 19th-century classical liberal association, which was the temperance movement. He said the movement was precisely about "cultivating self-discipline in the face of temptation, not merely on an individual level, but through association and formation."
Acknowledging that "the temperance movement gets a … bad rep," Goldman promoted it as "a useful model of citizens confronting a problem of social corruption and individual temptation and trying to figure out what they could do about it together without ... relying entirely on … the force … of government."
The "Evaluating Liberalism" panel was the first event in a partnership between Baylor in Washington and the Institute for Human Ecology at the Catholic University of America called the Joint Initiative on Faith and the American Commonwealth.
The goal of the new initiative is to "explore together some places where people from different faith traditions have to wrestle with issues of social, political, or economic life" and serve as a platform where "people can think out loud about some of these difficult issues."