Scores Killed, Thousands Flee Christian Town in Boko Haram Rampage in Nigeria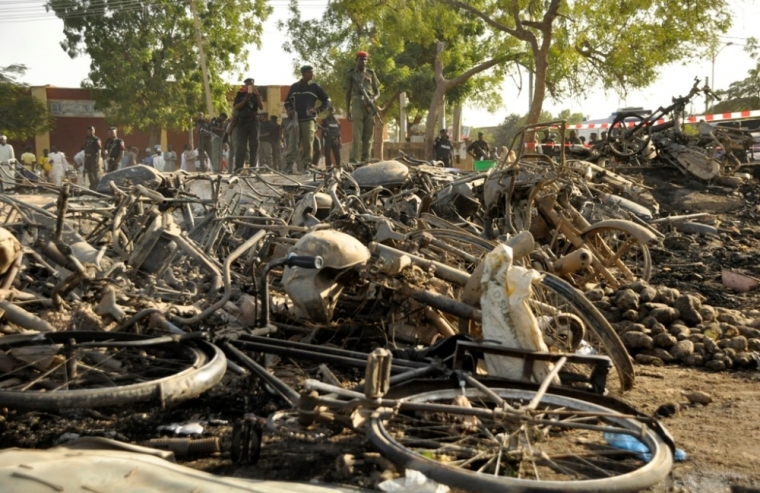 Scores of people have been killed and thousands have fled the predominantly Christian town of Shani in Borno State, Nigeria following an attack by terror group Boko Haram late on Saturday, report have said.
A Shani resident who did not wish to be identified told Nigeria's Daily Post that "some group of insurgents invaded the town at about 8 p.m. on Saturday and started shooting sporadically, targeting civilians, public buildings and recreational centres."
The resident continued: "They came on about 10 motorcycles from Gwaskara axis, well armed with Ak47 rifles, improvised explosive devices and petrol bombs, wrecking havoc without confrontation as there was no military operatives, nor police to assist the armless civilians who were running for dear lives."
Reuters reported that it's not yet known how many people have been killed, as communications with the town have been largely cut off.
Another resident, Ishaya Brimah, said from the safety of a nearby village that the militants that attacked Shani numbered more than 30 men.
"They started throwing bombs into houses ... then the Boko Haram fired shots at people fleeing," Brimah continued. "They set ablaze the police station, houses and a telecom mast ... I saw people fleeing, some bodies on the ground."
Shopkeeper Shuabu Lawal added about the start of the attacks: "A boy ran into my shop and said his father and elder brother had been shot. He was only wearing shorts, no top and sweating despite the wintry weather. I shut down my shop immediately, leaving some items outside."
Boko Haram has been raiding Nigerian towns and villages for over five years in a mission to establish an Islamic caliphate. The terrorists have often targeted Christians, who make up close to half of the nation's population, and have sought to drive them out of the country.
Shani has been attacked twice more in the past few years. In 2011 the town suffered a terrorist attack by gunmen who attacked a national elections commission, murdering staff and destroying a police station. The Divisional Police Headquarters was then burned down in June 2014 in new attacks by militants.
Moderate Muslims have also been killed in large numbers by jihadist group, with a bomb attack by Boko Haram on a mosque in Kano killing more than 100 people. Although three of the gunmen were captured in the attack, they were killed by a mob angry at the constant raids on civilians in Nigeria, BBC News reported.
Civilians have also expressed their anger at the government of President Goodluck Jonathan, and have blamed the Nigerian army for failing to stop the weekly and sometimes daily attacks by the militants.
The United Nations has stood behind Nigeria in its fight against terrorism, with UN Secretary-General Ban Ki-Moon commentating on the bombing of the mosque and insisting that there is no justification for attacking civilians.
In a statement, Ban reaffirmed, "the full support of the U.N. to Nigeria's efforts to fight terrorism and to provide security to the population consistent with international law and Nigeria's human rights obligations."