Scott Morrison: Australia's New PM Is an Evangelical Who Voted Against Gay Marriage Despite Opposition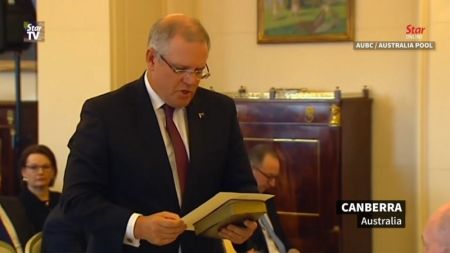 Scott Morrison, the Australian treasurer who on Friday became his country's newest prime minister, is reported to be an evangelical Christian who voted against gay marriage.
Morrison won an internal ballot, 45-40, in the Liberal party, forcing moderate Malcolm Turnbull out amid political turmoil in the country. He attends Horizon Church, a Pentecostal megachurch in Sutherland, and lists "church" as one of his interests.
Nick Bryant, a journalist and expert on Australian politics, told CNN that Morrison met his future wife, Jenny, at church when he was 12 years old. Their current church is said to have  close ties to the famous Hillsong megachurch.
Notably, Morrison voted against legalizing same-sex marriage in parliament in 2017, despite a national postal survey in November where 61.6 percent of citizens agreed with changing the definition of marriage.
The politician has also vowed to back a new "religious protections" bill to support churches that don't want to offer gay weddings, which is something Christian groups have been calling for since gay marriage was legalized late last year.
Australian Catholic Bishops Conference President Archbishop Denis Hart said that politicians must respect religious believers who do not agree with changing the definition of marriage.
"Parliamentarians must recognize and respect the concerns of the more than 4.8 million Australians who opposed a change to the definition of marriage by putting in place strong conscience and religious freedom protections," Hart said, referring to the 38.4 percent of respondents who voted against the proposed change.
"These protections must ensure that Australians can continue to express their views on marriage, that faith-based schools can continue to teach the traditional understanding of marriage and that organizations can continue to operate in a manner that is consistent with those values."
Christian organizations in Australia have hailed Morrison's ascent to the prime minister.
"[We] trust Scott Morrison will demonstrate the strong leadership required for a new era of political stability," the Australian Christian Lobby tweeted on Friday.