Scottish University to Hand Out Transgender Pronoun Badges to Freshmen Students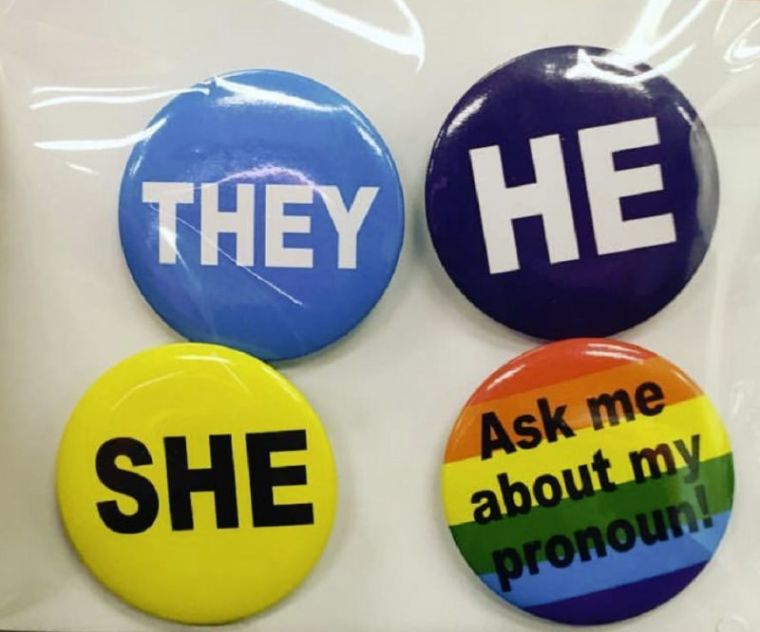 Incoming freshmen at a college in Scotland will receive pronoun badges to let other students and faculty know what their preferred pronoun is.
The University of Edinburgh will begin having student union officials hand out the pronoun badges during freshman orientation week so that students won't run the risk of being offended by someone using the incorrect pronoun to refer to them.
As reported by The Telegraph, the goal of the badges is to avoid "misgendering" students who don't identify by the gender that corresponds to their biological sex. The badges will inform those who read them whether the student prefers to go by she, he or they.
While some biological males might want to be referred to as she/her, some biological females might prefer he/him. In some cases, transgender individuals might prefer the pronouns they/them.
There are also other invented pronouns that transgenders individuals might prefer, such as "zir/zirs" "hir/hirs."
Edinburgh University Students Association Vice President Kai O'Doherty told The Telegraph that the badges will be available throughout "Welcome Week," Sept. 8–16, before the start of the fall semester.
The school's student union produced a "Short Guide to Sharing Pronouns for Trans Allies" that calls on students to normalize the practice of "sharing their pronouns" in order to "challenge the narrative that pronouns can be assumed."
The five-page document argues that it can be "harmful" for transgender individuals when people assume someone's pronoun based on the way they look or dress.
"If we choose to make assumptions about which pronouns are correct, we risk misgendering people and/or singling out trans people who want to clarify their pronouns," the guide states. "Using the correct pronouns can — particularly for trans folks — be an act of validation and a reminder that you recognize the importance of their gender identity.
The guide also highlights ways in which students can go about sharing their pronouns with each other.
"One way to share your pronouns is to add them to your email signature, by simply including a short line under your name and role which reads, 'My pronouns are ...'" the guide reads. "This is particularly useful if you often correspond with people you might not see on a day-to-day basis."
"Once you have updated your signature, you could also email colleagues encouraging them to do the same," the guide adds. "Another way to normalize the sharing of pronouns is by including them whenever people are doing introductions, for example at the start of a meeting or workshop. You could say, 'Let's start by going round and introducing ourselves — if you could each give your name, your pronouns and which team you're from.'"
The document goes on to criticize "cisgender" individuals who "don't care" what pronoun someone uses for them.
"Often cisgender people 'don't care' because they know that people will likely default to their correct pronouns and even if they don't, their gender won't really be up for debate," the guide argues. "The same cannot be said for trans folks, and saying you 'don't care' about pronouns can suggest that trans folks are silly for requesting that their pronouns be respected."
The news of the pronoun badges comes after a teacher in the United Kingdom was investigated and removed from class last year because he referred to a female-born transgender student as a "girl."
This year, a doctor in the U.K. was fired by the National Health Service because he refused to identify transgender patients by their preferred pronouns due to his Christian faith.
In Scotland, the number of children being referred to gender clinics because of gender dysphoria has reached an all-time high, critics have warned. 
In the United States, some colleges such as the University of Kansas have already begun offering students and employees pronoun pins. Those buttons at KU came in three versions: "He him his," ″She her hers" and "They them theirs."
"Because gender is, itself, fluid and up to the individual, each person has the right to identify their own pronouns, and we encourage you to ask before assuming someone's gender," a sign in the KU library was quoted as saying, according to the Associated Press. "Pronouns matter! Misgendering someone can have lasting consequences, and using the incorrect pronoun can be hurtful, disrespectful, and invalidate someone's identity."
Last year, a private school in California was sued for not treating a biological male transgender student like a girl.
Although the Trump administration has rolled back some Obama-era transgender school protections, it has left the door open for schools to face investigation should they not use a transgender students preferred pronoun.