Seattle Pacific University Professor on Shootings: 'This Is Not God's Plan; This Is Not God's Will'
A Seattle Pacific University professor told grieving students Thursday night that the shootings on campus, which left one student dead and two others injured, was not what God wanted for their school community.
"There's no explaining it," Frank Spina, a professor of biblical studies, told students at a impromptu prayer service on Thursday night. "'This is not God's plan. This is not God's will. This is not God's way of teaching us a lesson. Any lesson we could have learned out of this could have been learned otherwise."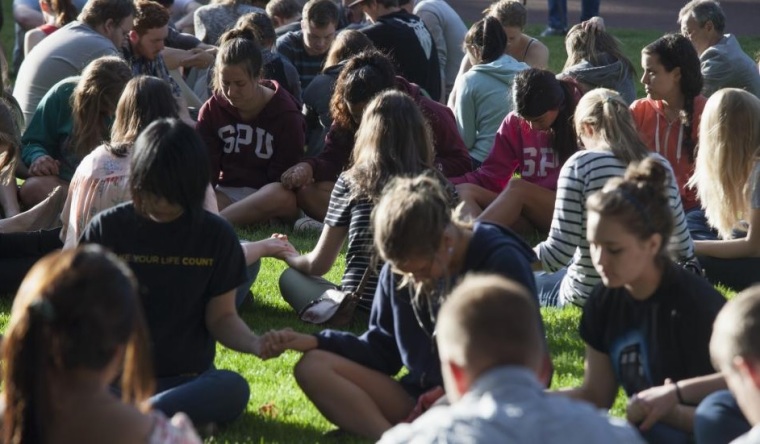 Instead, Spina said, "It's a day to scream. It's a day to lament."
The violent day might have become more deadly if not for student Jon Meis, 22, who also worked for the school as a building monitor. According to local affiliate Q13 Fox, after Meis witnessed suspect Aaron Ybarra open fire inside Otto Miller Hall and then stop to reload his weapons, which included a handgun and shotgun, he reportedly sprayed the gunman with pepper spray. After the pepper spray left the suspect incapacitated, Meis placed Ybarra into a chokehold while other students and faculty members arrived to help, said police.
In a press conference last night, assistant Seattle police chief Paul McDonagh credited Meis' quick efforts for saving lives.
"There are a number of heroes in this. But for the great response by the people of Seattle Pacific, this incident might have been much more tragic," he said.
A rattled Meis was taken to the hospital shortly after the incident, but released later on Thursday.
Susan Gregg, a spokesperson for Harborview Medical Center, said in a news conference that though not physically hurt, Meis was "obviously undergoing mental anguish."
"There were no visible injuries. It was, I think, coming to grips with what happened, the trauma of seeing what happened to his fellow students," she added.
According to jail records, Ybarra, who is not believed to be a SPU student, is currently imprisoned without bail in King County Jail on homicide charges.
Among the victims are a 19-year-old male who died from the shootings. A 19-year-old female student underwent five hours of surgery on Thursday after she was shot in the chest, Gregg confirmed.
A 24-year-old male victim is listed in satisfactory condition after he was hit with pellet fragments in his upper body.
Earlier reports suggested that the shooter had left three wounded, and included Meis in that figure.
The campus went under lockdown from 3:34 p.m. to 5:59 p.m. Pacific Time on Thursday. It has closed Otto Miller Hall, where the shootings occurred, until current notice.
SPU, a Christian college of 4,000 undergraduate and graduate students, was founded by Free Methodists in 1891. The school's undergraduate graduation ceremony falls next week on June 14.