Selling Baby Body Parts 'Generates Income' for Abortion Clinics, Says Planned Parenthood Official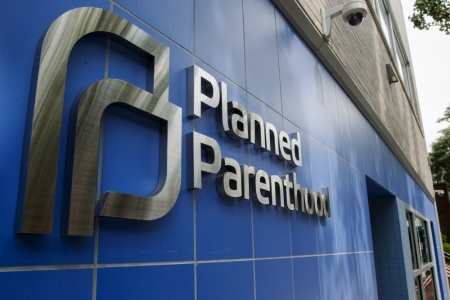 The Center for Medical Progress released its 10th undercover Planned Parenthood video Tuesday morning, which purports to show high-level officials discussing how the absensce of national PPFA guidelines for organ and tissue compensation allows affiliates to profit off the sell of babies' body parts, and keeps them from being "bullied by ridiculous laws."
As it's a federal crime for any person to profit off of the sale of aborted babies' tissue going to research, the latest video in the CMP investigative series features Planned Parenthood's national director of its Consortium of Abortion Providers, Deb Vanderhei, explaining that some "independent colleagues" do "generate a fair amount of income" from the compensation for aborted babies.
While independent colleagues could refer to unaffiliated abortion providers, Vanderhei explains Planned Parenthood's own national guidelines on tissue procurement. She says that the nation's largest abortion business intentionally lacks national compensation guidelines in order to let affiliate clinics decide whether their tissue donation policy will be "mission-based" or if they "want to engage in remuneration."
Although Vanderhei later says in the clip that she thinks abortion providers should "go for it," she emphasizes that affiliates need to think carefully about how to go about the remuneration process without the media catching wind of it and making the organization criminally culpable.
"We are absent a policy and that's relatively intentional, and the policy that we do have suggests that you just really need to think about what you're doing, your procurement service, and if there's anyway you can do it mission-based, that's probably better," Vanderhei states. "And if you decide that you want to engage in remuneration, that you really think that through."
"If they do it, that's fine. We're not going to say no. But we want them to think about The New York Times headline. How could this go bad?" Vanderhei asserts. "We have independent colleagues, who generate a fair amount of income doing this, and if they have smaller margins or don't have the ability to fundraise because they're not a nonprofit, that's really helpful."
The video also shows an interview with Deborah Nucatola, Planned Parenthood's senior director of medical services, who also explains that there are no national guidelines and that "there will never be national guidelines."
"And that is by choice," Nucatola said.
Vanessa Russo, the compliance program administrator for Planned Parenthood Keystone, was much more vocal about her views on abortion providers profiting off of the sell of aborted babies' parts, saying that Planned Parenthood should not subject itself to "ridiculous laws" or participate in "social discussions."
"We feel like we can't consent to be bullied by ridiculous laws and this media that doesn't understand the big picture. And, I don't really think that we should participate in that level of discussion, and that we should operate as an organization the way any other organization would," Russo argues.
"I've always been a supporter, I've been a patient, now I'm working here, and I just feel like we shouldn't participate in ridiculous social discussions. We should participate in the valid ones. We shouldn't curtail our business for ridiculousness. Maybe curtail our business for an actual real discussion."
Russo further asserts that it should be the organization's' right to accept money for baby tissue procurement.
"A company like this that wants to give our organization money for the tissue, I think that's a valid exchange and that's OK, providing that we are very sensitive to the patient, and the consent, and all of that," Russo continues. "I don't see a problem with that. I understand that we have to worry about our rep[utation] and everything like that."
Planned Parenthood has maintained throughout the release of the CMP videos that the organization has operated its tissue reimbursement processes in a manner consistent with the law. However, a number of states and congressional committees are conducting investigations into the abortion giant's practices.
In a statement to The Christian Post on Tuesday, Lila Rose, president of the pro-life group Live Action, said: "The newest video by Center for Medical Progress shows at what length Planned Parenthood executives will go to cover up the illegal harvesting of and profiting from baby parts. Multiple executives also discuss the public relations nightmare should these illegal practices become public.
"The nightmare is a reality, and along with continuing its multiple investigations into the abortion giant, Congress should immediately stop funneling over half a billion taxpayer dollars into Planned Parenthood and instead redirect the money to the over 13,000 community health centers that provide comprehensive healthcare to women. ... "
According to Justice Department alumnus and Republican presidential candidate Sen. Ted Cruz, R-Texas, anyone found guilty of receiving profitable compensation from the sale of fetal tissue has committed a felony and could serve 10 years in jail.
A South Carolina investigation in light of the CMP videos found that two abortion clinics violated state laws, not one of which was profiting off the sell of babies' tissue. The Planned Parenthood clinic in Columbia was found to be in violation of 21 state regulations, while the Greenville Women's Clinic was found to be in violation of six regulations.
The clinics have been suspended and will have to make the noted corrections before Sept. 28 or they could face closure.