Sen. Baucus Clarifies: Obamacare Is 'Good Law,' Not 'Train Wreck'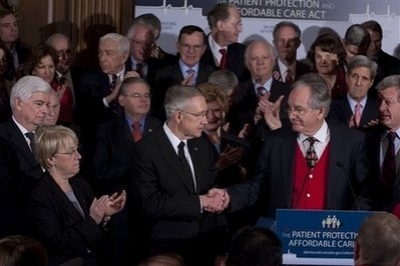 As critics of President Barack Obama's Patient Protection and Affordable Care Act latched on to a controversial "train wreck" comment made by Democratic Sen. Max Baucus of Montana in his discussion of the 2010 law on Wednesday, the senior lawmaker said he was only referring to the law's implementation.
"I just see a huge train wreck coming down," Baucus told Health and Human Services Secretary Kathleen Sebelius at a Wednesday hearing in the Senate Finance Committee in Washington, D.C.
Many people, he explained, were confused about the new health law and argued that the Obama-led administration needed to do a better job of telling people about its benefits and how it will work. "You and I have discussed this many times, and I don't see any results yet," said Baucus to Sebelius.
In clarifying his position after the brouhaha over his comments, he released a statement later that day vouching for Obamacare. "This is a good law, but it can't work if people don't understand it," he said.
Beginning Oct. 1, uninsured Americans can sign up to buy health insurance policies through an Internet marketplace. Eligible low-income residents will get access to federal subsidies to help with these purchases. As of 2014, Americans will be required by Obamacare to have health insurance or face a tax penalty for non-compliance.
But Baucus noted that in his travels across Montana in April he met with many employers and consumers who had questions about how the law would impact their lives and the state just did not seem ready for the implementation of a law with as big a scope as Obamacare.
Sebelius, however, dismissed the concern.
"I don't know what he's looking at," she said of Baucus' comments, according to The Washington Post. "We are on track to fully implement marketplaces in Jan. 2014, and to be open for open enrollment."
Mike Fierberg, a spokesman in Denver for HHS' Center for Medicare and Medicaid Services, noted in an earlier report on Thursday, however, that $600,000 was earmarked by the office to hire and train people classified as "navigators" to explain to the various communities how the law will work.
"We have a lot of people who are going to be eligible [for marketplaces], and most don't know they are eligible, and many of them have no experience with health insurance whatsoever," Fierberg said of the Internet marketplace. "Education and outreach is going to be very, very important," he added.
President Obama reportedly requested $1.5 billion in his 2014 fiscal proposal to help HHS set up exchanges run by the federal government. It wasn't clear, however, if Congress would provide this.