Sentencing Begins for Gosnell Employees; Pro-Life Group Calls for Excavation of Landfills to Locate Babies
Editor's Note: Warning, graphic material in following article.
Elizabeth Hampton, Kermit Gosnell's sister-in-law who worked at the Women's Medical Society abortion clinic in West Philadelphia, was sentenced Tuesday morning to serve one year of probation after pleading guilty to one count of perjury for lying to FBI and DEA agents about practices inside the clinic during their Feb. 18, 2010, raid to investigate Gosnell's illegal prescription drug operation.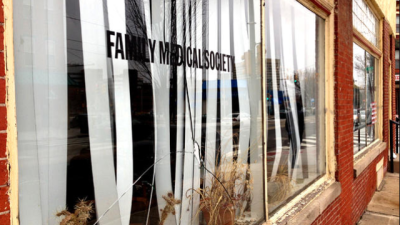 Hampton is the first of eight former abortion clinic employees to be sentenced, with three others to follow on Wednesday. Gosnell was sentenced earlier this month to three life terms for the murder of babies.
The foster sister of Gosnell's wife, Pearl, Hampton had worked at the abortion facility on-and-off since 1999, and testified during the Gosnell trial about the overdose of medications dispensed to patient Karnamaya Mongar who died at the late-term abortion clinic. She also testified to dumping babies' body parts down the sink, and to witnessing an incident in 2006 at the clinic that she wasn't allowed to describe in court, except to say the event led her to "fall off the wagon," according to Cheryl Sullenger, senior policy adviser for Operation Rescue, who covered the trial for the pro-life organization.
Testimony given by Hampton also revealed that Gosnell would put black women in rooms that were dirty, and have a 15-year-old administer treatment, draw blood and use ultrasound equipment, but would provide a one-on-one consultation with white women, who were placed in cleaner rooms.
Philadelphia prosecutors are expected to show leniency Wednesday when former abortion clinic employees Lynda Williams, Sherry West and Adrienne Moton are sentenced on the charges they face for third-degree murder in the deaths of three babies born alive inside Gosnell's clinic, and for the death of Mongar, who died after receiving an overdose of Demerol.
"West's lawyer, Michael Wallace, said Gosnell had a 'Svengali control' over the women," according to WACU-TV, and believes his client should receive probation.
Gosnell's employees testified that he would order them to cut babies' spines or behead them to "ensure fetal demise" if he didn't kill them himself.
West, who pled guilty to third-degree murder and conspiracy, testified during Gosnell's murder trial that she witnessed a baby screaming, lying on a shelf, having been delivered during an abortion procedure. She described the baby as being between 18 and 24 inches long. West was allegedly an unlicensed worker who routinely performed illegal operations and administered anesthesia.
Philadelphia, New Jersey authorities' three-year search for babies' bodies
Following the raid on Gosnell's clinic in 2010, the Philadelphia police crime scene unit searched the homes and properties owned by the abortionist, and even traveled down the Atlantic City Expressway to search for babies' remains.
"We went down there because we thought maybe some of the babies were thrown into the bay. There's a lot of babies that are still unaccounted for and we don't know where they're at," Philadelphia crime scene investigator John Taggart told WACU-TV.
"I believe they're either buried out there or I don't know where they are," Taggart added. "We've looked for three years."
Michael Marcavage, campaign director for the Campaign to Stop Stericycle, told The Christian Post on Tuesday that he believes the remains of babies born alive in Gosnell's abortion clinic are decomposing at landfills.
Stericycle, a company that disposes of medical waste, including the disposal of aborted babies for Planned Parenthood and other abortion providers, also served Gosnell's abortion clinic until he failed to pay them the excess of $10,000 he owes the company.
According to Marcavage, Gosnell's staff mismarked the boxes filled with babies' remains that would've been sent to North Carolina to be incinerated, because that state prohibits the incineration of babies aborted late-term and babies who are born alive.
"Through the documentation that we've found, the boxes were mislabeled, and ultimately ended up being disposed in Pennsylvania landfills," he said.
"After requesting that the North Carolina Department of Environment and Natural Resources investigate Stericycle's unlawful incineration of late-term and newborn babies killed by Gosnell, it was discovered through CSS' own investigation that the bodies of the children never made it to the incineration plant," Marcavage added. "Instead, the boxes were mislabeled and sent to Stericycle's chemclave plant in Morgantown, Pa. After the babies were treated in this chemical solution, they were hauled to an area landfill and buried with the trash, which is illegal in Pennsylvania."
Marcavage told CP that Stericycle collected medical waste from Gosnell's clinic on a weekly basis. He noted that documents obtained by CSS reveal that on Dec. 22, 2008, the company collected 26 boxes, weighing 290 pounds; and on July 13, 2009, the company hauled away 23 boxes from the abortion facility that weighed 264 pounds. "Even when just a few boxes were collected, single boxes would at times weigh over 20 pounds."
CSS has sent a letter and their documentation to Pennsylvania Gov. Tom Corbett, the Department of Environmental Protection, state police and Rep. Matthew Baker, the chair of the House Health Committee, to request a formal investigation and excavation of the landfills to remove the remains of bodies that might be found.
"There are potentially hundreds of Gosnell victims buried in Morgantown landfills and other landfills," Marcavage said. "There are many remains of Gosnell victims who have not had their justice."
In 2011, the Texas Commission on Environmental Quality fined Stericycle $42,612 for illegally dumping aborted babies in a municipal landfill in Austin, Texas, with household and commercial garbage.