Should God Be Called 'She?' Anglican Women Priests Say God Is 'Both Male and Female,' but Church Only Speaks of the Creator as Male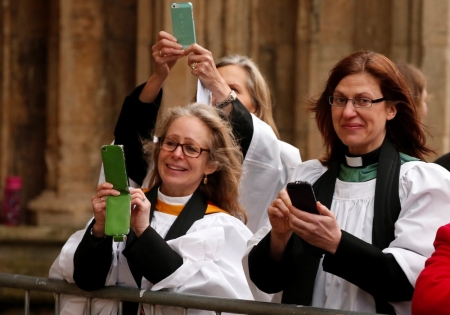 A group of female priests within the Church of England is calling for more gender-neutral language to be used when referring to God in church services, in what it says is a campaign for equality between men and women in the church.
"Orthodox theology says all human beings are made in the image of God, that God does not have a gender. He encompasses gender — He is both male and female and beyond male and female. So when we only speak of God in the male form, that's actually giving us a deficient understanding of who God is," said Rev. Jody Stowell, a member of Women and the Church group, according to The Guardian.
The Rev. Emma Percy, chaplain of Trinity College Oxford and a member of WATCH, added that both male and female language should be used in church services, in order to distance the church from "the notion that God is some kind of old man in the sky."
Percy argued that there has been a growing support for more modern language to be used during church service.
"In the last two or three years we've seen a real resurgence and interest in feminism, and younger people are much more interested in how gender categories shouldn't be about stereotypes. We need to have a language about God that shows God can be expressed in lots of diverse terms," she said.
Hilary Cotton, chairman of WATCH, added that the idea has been discussed with a Lambeth Palace committee exploring the experiences of women in the Church.
"We have conversations among that group and we are working toward working with those who are involved in liturgy in the Church of England," Cotton said, according to The Daily Mail.
"We are at a very, very preliminary stage in terms of shifting the language of worship," she added. "The question of how might we rewrite the services of the Church of England in a way that broadens our understanding of God is a difficult question over which we will wrestle for a number of years. This has arisen now because of a change in gender culture."
Ann Widdecombe, a former Conservative member of parliament who left the Anglican Church after it started ordaining female priests, said that the entire suggestion of using female pronouns for God was "plain silly" and "the work of lunatics."
The Church of England also ordained its first female bishop in January, breaking hundreds of years of tradition. The change was supported by the Archbishop of Canterbury, the Most Rev. Justin Welby, including most others in the CofE leadership.
Stowell, who is a vicar at St Michael & All Angels Church in Harrow, told the BBC, however, that the campaign is not arguing that God is a woman.
"This is not about making God a woman. This is about creating those proper, biblical images of God," she said.
Stowell argued that the Bible sometimes describes God using female terms.
"We have images of God as a mother bear, so very ferocious, protecting her cubs," she said.
"We have God as a woman baking and kneading the bread, so this forming God. We have God as a nursing mother.
"We're not restricted to understanding God with one gender. I would encourage people to explore those kinds of images. They're wholly biblical. They're wholly traditional within the Christian faith."