Sight & Sound Theatres to premiere 'DAVID' based on life of legendary king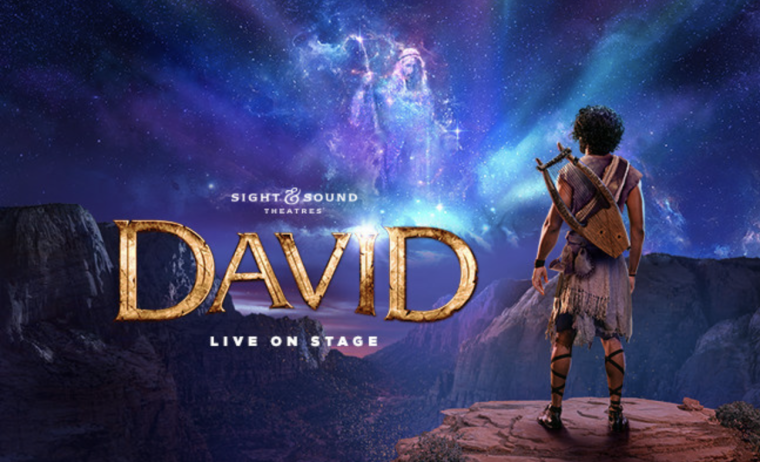 Sight & Sound Theatres has announced when tickets will go on sale for its new original stage production, "DAVID."
Tickets will go on sale April 20 for the highly anticipated presentation coming to its theatre in Lancaster, Pennsylvania, in 2022. The story is about the biblical hero who went from shepherd to king after defeating a giant named Goliath.
"This new production has been four years in the making and we couldn't be more excited to finally bring it to the stage," Joshua Enck, chief story officer for Sight & Sound, said in a statement shared with The Christian Post. 
"David was many different things: a shepherd, king, poet and a warrior. Through this new live-stage production, this powerful yet personal story will come to life like never before," Enck said.  
"DAVID" will be presented on Lancaster's 300-foot panoramic stage along with special effects and original music inspired by the book of Psalms.
"The show will break down the complexities of who David was," Katie Miller, communication manager for Sight & Sound, added. "We're excited to take audiences inside his triumphs and struggles as we get to know this king who was known as a man after God's own heart."
All Sight & Sound productions feature original content inspired by biblical narratives found in Scripture.
In this upcoming production, David will be portrayed as a "master poet, fearless warrior, anointed king, from still waters to shadowed valleys. David's ascent to the throne is filled with towering giants, wild animals and Philistine soldiers. After unprecedented victories lead to devastating failures, this passionate warrior will face the biggest battle of all: the one within himself. Come alongside this young shepherd on his journey to become a man after God's own heart," the synopsis reads.
Sight & Sound is known for incorporating live animals in their stage production and fans can expect the same for this production as well.
For more than four decades, Sight & Sound has provided biblically-based entertainment for over 22 million people at their Lancaster and Branson, Missouri, performance theatres. In the past 10 years, the company has started filming its live shows and making DVDs.
For tickets and more information about "DAVID," click here.