Sin of Racism Will Continue Until Church Gets Its Act Together, Insists Pastor Tony Evans
Texas Megachurch Pastor Says #WeCanDoBetter on Modeling Oneness, Unity for Society at Large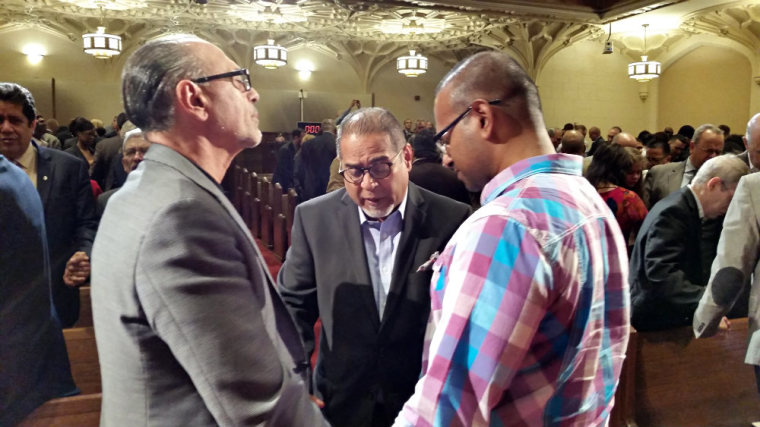 "In order to impact our society, we need to first model unity in the church," says Dr. Tony Evans, pastor of Oak Cliff Bible Fellowship in Dallas, Texas, in a recent video filmed at the site where civil rights icon Martin Luther King, Jr. was gunned down nearly 50 years ago.
The megachurch pastor and bestselling author believes U.S. society is still reeling from the effects of historical racial injuries and prejudices because Christian churches have yet to coalesce as one body under God to tackle those issues.
Speaking at the Lorraine Hotel (the National Civil Rights Museum) at 450 Mulberry in Memphis, Tennessee, Dr. Evans reflects on watching as a child a television broadcast of King's "I Have a Dream" speech, saying he got goosebumps seeing so many Americans joined together for a single cause.
Evans also comments on the role Christian churches played in the civil rights movement.
"When I heard Martin Luther King's speech, 'I Have a Dream,' I reflected on the fact that much of the success of that movement was driven by the unity of the church," says Evans. "Whole communities were changed, laws were changed, the way the government functioned, all changed because the church came together in unity to call for God's view of justice to be implemented in a segregated America, in an unjust society."
The Oak Cliff Bible Church pastor goes on to call on Christians to consider that until churches "become the Kingdom Church, then we will not see the kind of cultural transformation and effect that is being represented by the Civil Rights Museum."
"We can never get around to being one nation under God if we can't even get around to being one Church under God," he insists. A unified nation will never be realized, says Evans, until there is a unified church. When that happens, "watch what God does for the nation."
King, assassinated in 1968 at the Lorraine Hotel a day after speaking at a church, is frequently referenced in remarks on how Sunday morning is the most segregated hour in Christian America. While some might argue that progress has certianly been made on that front, LifeWay Research reported in January that Protestant congregations were predominantly composed of a single race.
The racial unity remarks from Evans, who tagged his "One Church Under God" video and related tweets with the hashtag #WeCanDoBetter, come amid ongoing protests across the nation over grand jury refusals to indict white police officers in the deaths of two black men, Michael Brown in Ferguson, Missouri, and Eric Garner in Staten Island, New York.
Brown's fatal August shooting by police officer Darren Wilson, which resulted in the 18-year-old's bloodied body being left uncovered in a residential street for nearly four hours, occurred after the videotaped July death of Garner, who is heard saying 11 times, "I can't breathe." The married father of six was tackled by at least five police officers after resisting arrest and is seen in the video with officer Daniel Pantaleo's arm around his neck while another officer presses his head against the pavement.
In Brown's case, some eyewitnesses claim the unarmed teen had his hands up in surrender when he was eventually shot a total of six times, while Wilson testified that the 292-pound youth charged at him. As for Garner, the New York City Medical Examiner's Office determined his death to have been a homicide caused by a chokehold, although Officer Pantaleo denied that he used the move, officially banned by the New York Police Department in 1993. The respective grand juries that weighed whether charges should be brought against Wilson and Pantaleo did not find cause to criminally prosecute the officers, which some Americans viewed as unjust decisions.
Both Brown's and Garner's cases, compounded by similar cases involving deadly confrontations between law enforcement and black civilians, have also given rise to sustained protests in Ferguson, New York City, and across the nation. These protests, populated by Americans of various races, have been anchored by hashtag-inspired proclamations such as #HandsUpDontShoot, #BlackLivesMatter, and #ICantBreathe.
After the grand jury decision in Brown's case was revealed on Nov. 24, Pastor Evans pointed to the resulting skeptical and outraged responses as symptomatic of the "disunity and inequity that continues to smolder underneath the collective conscience of our land."
He added in his Nov. 26 remarks on Ferguson, "That is why it is especially critical during these days of tension and uncertainty that we in the body of Christ intentionally seek to bridge that gap. God calls us to unity, choosing to fully express Himself in an environment of unity. Thus, we need to pursue unity in an atmosphere of peace and not in violent retaliation."
Evans specifically placed the onus on Christian leaders to not remain silent, writing, "It is important that the leaders in the body of Christ today be held accountable to speak to this matter because its continuance is affecting all of us as we bear the burdens of the systemic effects of racial division throughout our land.
"We must come together as leaders to repent and forgive one another and strategize together how we can best impact our communities and our nation for Christ and His kingdom," he adds.
Evans made similar remarks on his ministry website, The Urban Alternative (http://tonyevans.org/2014/12/not-a-skin-problem-but-a-sin-problem/), just days after the Garner grand jury decision, which came on Dec. 3.
In that instance, Evans insisted that sin was the cause of racism, which he describes as an "evil" and a "cultural cancer."
As for why he believes racism has been so difficult to eradicate, Evans suggested, "Because racism is not first and foremost a skin problem. It is a sin problem. See, when you believe that racism is a skin problem, you can take three hundred years of slavery, court decisions, marches, and the federal government involvement and still not get it fixed right."
"But once you admit that racism is a sin problem, you are obligated as a believer to deal with it right away. As long as the issue of race is social and not spiritual, it will never be dealt with in any ultimate sense," he adds.
Evans is among many Christian leaders speaking out in light of the racial, justice and law enforcement concerns highlighted by Brown's and Garner's cases. In addition to his "One Church Under God" video being shot at the Lorraine Motel, the site where King was assassinated will also host a forum titled "A Time to Speak." The Dec. 16 event will feature several Christian ministers, such as Bryan Loritts, John Piper, Voddie Baucham, and Ed Stetzer, and be live-streamed as these "Christian leaders speak on race, the church and where do we go from here."