So. Baptists Vote to Uphold 'God's Definition of Marriage,' Despite Outcome of Supreme Court Ruling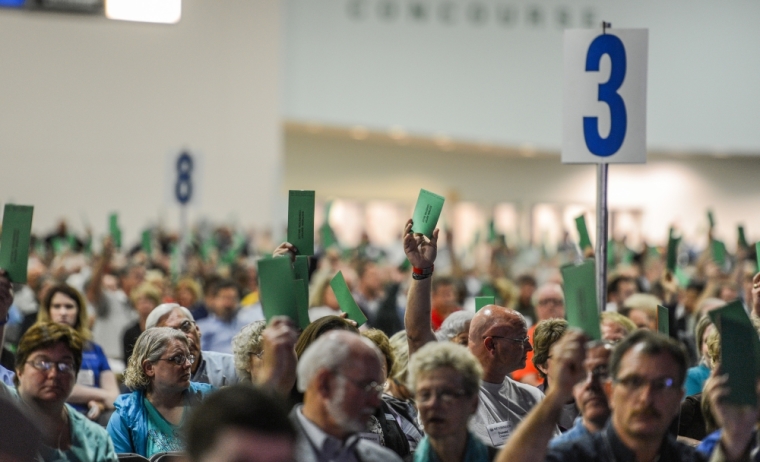 The largest Protestant denomination in the United States has passed a resolution stating that marriage is between one man and one woman regardless of what the U.S. Supreme Court concludes later this month.
Messengers for the Southern Baptist Convention voted Tuesday afternoon in favor of Resolution 5, which among other things, prayerfully calls for the Supreme Court to "uphold the right of the citizens to define marriage as exclusively the union of one man and one woman."
"Southern Baptists recognize that no governing institution has the authority to negate or usurp God's definition of marriage," read Resolution 5, in part.
"No matter how the Supreme Court rules, the Southern Baptist Convention reaffirms its unwavering commitment to its doctrinal and public beliefs concerning marriage …"
After a brief amending process, the resolution was adopted and following its passage, a moderate amount of applause erupted spontaneously.
Also called "On the Call to Public Witness on Marriage," Resolution 5 was passed as part of this year's SBC annual meeting, held at the Greater Columbus Convention Center in Columbus, Ohio.
Beginning Tuesday morning, the multi-day gathering featured thousands of Southern Baptists from across the country.
Resolution 5 also called for Southern Baptists to "stand firm on the Bible's witness on the purposes of marriage, among which are to unite man and woman as one flesh and to secure the basis for the flourishing of human civilization" and to "love our neighbors and extend respect in Christ's name to all people, including those who may disagree with us about the definition of marriage and the public good."
the SBC's resolution on marriage comes as the nation waits for the Supreme Court to decide on the constitutionality of state level gay marriage bans. The ruling is expected by the end of June.
The marriage resolution was just one of nine mulled by the messengers at the convention. Other resolution topics included denouncing religious persecution in North Korea, a call for increased restriction on access to pornography, and a reaffirmation of "our repudiation of the genocide of legalized abortion in the United States."
Tuesday's agenda included the re-election of Ronnie Floyd, senior pastor of Cross Church in Springdale, Arkansas, to the position of SBC president.