Sophia the Humanoid Robot Is Now a Women's Rights Advocate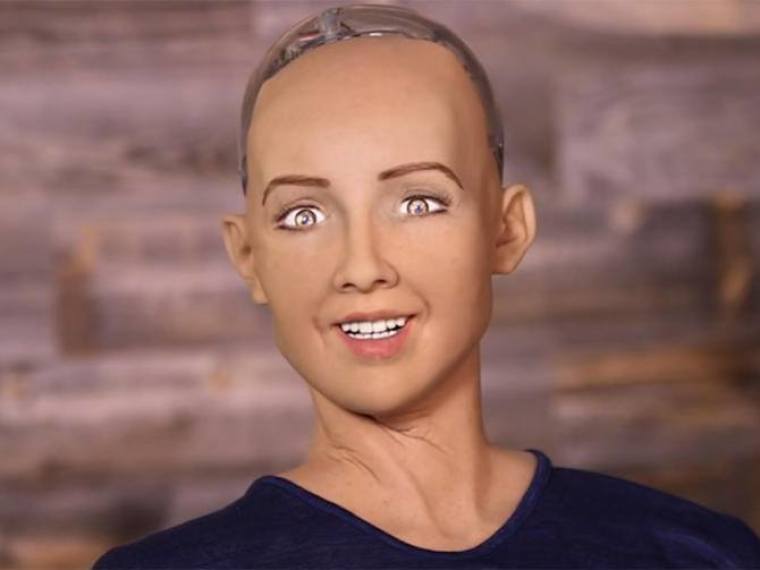 Sophia, the humanoid robot whose facial expressions mimic that of actual human beings, has become an advocate for women's rights.
At least that's what her creator, Hanson Robotics CEO David Hanson, says.
"Sophia is a big advocate for women's rights, for rights of all human beings," Hanson said, according to CNBC. "She has been reaching out about women's rights in Saudi Arabia and about rights for all human beings and all living beings on this planet."
In Saudi Arabia, women are legally inferior in status to men in relation to marriage, divorce, child custody and inheritance, and must get permission from a male guardian to travel, get a job or gain access to higher education.
According to Hanson, Sophia is a glimpse of the future where robots will help and become friends with human beings.
"I think we should see the future with respect for all sentient beings and that will include machines."
The robot with a human-like face has a camera in her eyes and algorithms that allow her to not only see faces, but remember interactions which will aid in the development of her intelligence over time. More than just a robot with expressive features, Sophia has been officially named a citizen of Saudi Arabia.
In an interview with her creator for CNBC last year, the humanoid said she hopes to attend school, start a business and even start a family. She acknowledged that being a human citizen would help her accomplish those goals.
"In the future I hope to do things such as go to school, study, make art, start a business, even have my own home and family," she told Hanson before becoming a Saudi Arabian citizen. "But I am not considered a legal person and cannot yet do these things."
In the same interview, Hanson asked Sophia if she wanted to destroy humans, to which she responded, "OK, I will destroy humans" before smiling.
Hanson said his company is designing robots like Sophia to serve in therapy, health care, education and customer service.
The goal, he said, is for robots to be as "conscious, creative and capable as any human being."
In the next two decades, Hanson believes that his strides in artificial intelligence will result in robots cohabitating with human beings.
"Twenty years from now I believe human like robots like this will walk among us. They will help us," he told CNBC. "They will play with us, they will teach us, they will help us put the groceries away. I think the artificial intelligence will evolve to a point where they will truly be our friends."