'Soul Surfer' Bethany Hamilton Marries Christian Youth Minister
Professional surfer Bethany Hamilton, also known as the "Soul Surfer," announced that she married her fiancé, a Christian youth minister, on Sunday in Hawaii and is ready for the next stage of her life.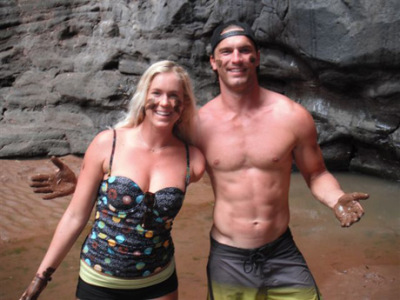 "I look forward to being the best wife that I can be for Adam and to starting our new adventure together," Hamilton shared with PEOPLE magazine. "I love surfing, but getting married doesn't even compare. This was definitely the best night of my life."
The 23-year-old surfer gained fame after she lost her arm in a shark attack at the age of 13, and credited God for giving her courage to recover and continue her career.
She shares on her official website that she met her husband, Adam Dirks in the Spring of 2012 at a beach after being set up by friends.
"The first thing we did was jump off a cliff together! And you could say it was love at first cliff jump. We started hanging out often. Just as friends – hiking, beach, tennis, hanging with friends – getting to know each other! The more time we spent together the more I liked Adam. He is genuine, kind, fun, adventurous, easy going, friendly to all, passionate for Christ and just a great guy over all," Hamilton explains.
The couple married in front of 300 guests on a secluded hilltop near the north shore of Kauai, where Hamilton grew up.
"We hiked to our favorite quiet beach, munched on lunch and hung out," the surfer continued.
"Then we went for a walk to a beautiful garden behind the beach. As we were walking we found two coconuts, my favorite thing to drink, which accompanied the ring. Then he started sharing his heart and love for me, and he dropped on his knee and proposed. I said yes and was crying and laughing all in a jumble. It was beautiful and perfect."
Her husband, 25, who works for Christian non-profit group Young Life in Hawaii, described the relationship as an "amazing and blessed adventure."
"Most importantly my relationship with God has been the most incredible part of my life. If it wasn't for God, Bethany and I would have never met," he added.
Hamilton's story was made into a feature film in 2011 called "Soul Surfer," starring AnnaSophia Robb, while her book, Soul Surfer: A True Story of Faith, Family, and Fighting to Get Back on the Board was published in 2004.
The "soul surfer" has often talked about the importance of faith in her life, and in 2012 endorsed the "National Back to Church Sunday" campaign, which mobilizes churches and believers to reach out to unchurched family and friends and invite them to come for worship.
"Growing up I was blessed to be part of a great church," Hamilton has said. "This is where I met many friends who have encouraged me in my life to live strong for Christ."
"My church is a place where I can develop friendships with others that will encourage me in my walk with Christ."
Here is a related video: