Southern Baptists Reject Motion to Disinvite VP Pence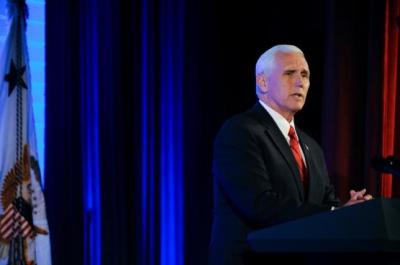 Southern Baptists rejected a motion on Tuesday to disinvite Vice President Mike Pence from giving a speech at their annual meeting. The pastor who proposed the motion said allowing Pence could hurt the unity of the denomination.
"Not only are many of us in this room hurt and bothered by this invitation, but also many of our minority brothers and sisters will be especially hurt by this invitation and I fear that it would communicate that our political associations are more important than our associations with them," said Garrett Kell, pastor of Del Ray Baptist in Alexandria, Virginia, in his proposal.
The Southern Baptist Convention announced on Monday that Pence would be addressing the messengers (or representatives) at their annual two-day meeting in Dallas, Texas. Pence is scheduled to speak Wednesday morning to "express appreciation to Southern Baptists for the contributions we make to the moral fabric of our nation," SBC President Steve Gaines said.
Kell expressed concern in his motion that the SBC would be "associating publicly" with the Trump administration and sending "a mixed message to our members suggesting that to be faithful to the Gospel is to also align with that administration."
"We must do all we can to preserve the purity of the Gospel, and this invitation works against it," he said.
He added that this could also place missionaries and other SBC workers in other countries "at risk of being the recipients of anger against the administration."
The Virginia pastor clarified in his motion that "this has nothing to do with Pence "personally."
While discussing the motion on Tuesday, Grant Ethridge, chairman of the Committee on Order of Business, stressed that the Southern Baptist Convention "aligns itself with no political party."
Ethridge also said this is an opportunity to honor government officials, as Scripture commands. He noted that if President Barack Obama were invited while he was still in office, he would have supported that.
Hours after messengers rejected the motion, another motion was introduced to refrain from accepting or extending invitations to public government officials, except for those from the local government in the city where their meeting is being held.