Spain's New Atheist Prime Minister Looking to Integrate Muslims, Remove Catholicism From Schools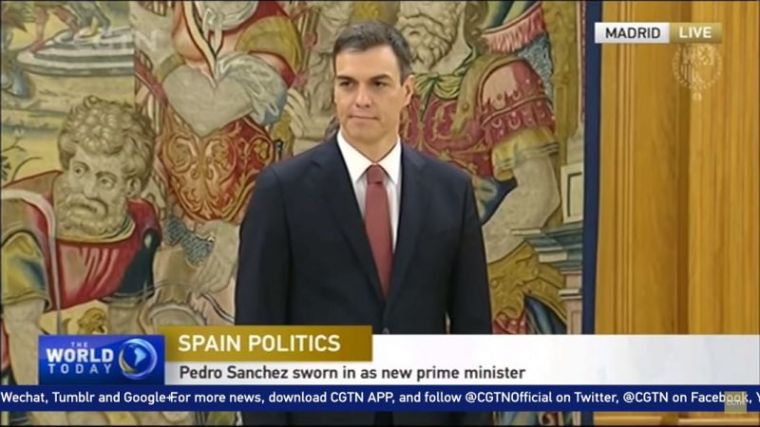 Atheist politician Pedro Sánchez was sworn in as Spain's new Prime Minister on Saturday, for the first time in the country's modern history without the presence of a crucifix or a Bible at the ceremony.
In his oath there was no mention of God, and he chose to use the Spanish word for "promise" instead of "swear."
"I promise by my conscience and honor to faithfully fulfill the obligations of the office of president of the government with loyalty to the King, and to keep and enforce the Constitution as the fundamental norm of the State," Sánchez said on Saturday in the translation provided by CNN.
Catholic publication The Tablet laid out several concerns on Wednesday with Sánchez and his PSOE Socialist Party platform, accusing them of being anti-Catholic but pro-Islam.
It pointed out that Sánchez has vowed to remove religious symbolism from institutions, as well as to end public funding for the Catholic Church, which is the largest church in the country. Additionally, he has said he will remove religion from the school curriculum.
At the same time, he has offered a hand to Spain's minority Islamic community, saying that he will pay special attention to the "full incorporation of Islamic communities into the European project and for the recognition of the Arab contribution to the European culture."
In other statements he has said that he does not want "any religious denomination having preferential treatment," though he has also said that he will support legislation "in which ideological, religious, cultural and gender convictions and expressions are respected."
Sánchez has in the past referred to himself as an atheist, explaining his beliefs in a 2014 interview with El Plural:
"I am an atheist and I believe that religion should not be in the classrooms, it has to be in the churches, in the classrooms you have to form citizenship, not people with religious beliefs, that corresponds to the private sphere."
The CIA World Factbook notes that 9.1 percent of Spain's population identifies specifically as atheist, along with another 18.4 percent who say they are non-believers. Two-third's of the population, or 67.8 percent of people, say they are Catholics.
Evangelicals, who are a small minority, have been fighting bills in the country that they say is pulling it away from its traditional roots. The Spanish Evangelical Alliance campaigned against a bill last year seeking to strip parents of their rights to stop their children from undergoing hormone treatment and sex change surgeries.
The evangelicals argued at the time that the belief that gender is fluid is "dogma," warning that cross-hormonal treatment in children leads to "deep and irreversible traumas."
Openly atheist leaders in Europe have been increasing in numbers over recent years. France, Croatia and Greece have also been led by non-religious figures.