Parents Television Council Awards UP Network, Home of New TV Show 'Bringing Up Bates,' With 'Seal of Approval' for Family-Friendly Programming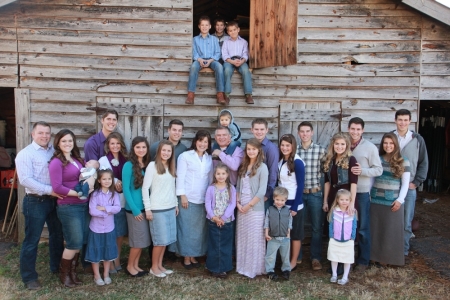 The television station that will air the reality TV program featuring a family with 19 children has been honored by a conservative entertainment watchdog group.
UP TV, which will carry the program "Bringing Up Bates" next month, has a history of being honored by the Parents Television Council for its station's content.
Tim Winter, president of the Parents Television Council, told The Christian Post that UP has been honored with its "Seal of Approval" award since 2010.
"We gave the UP Network our seal because their entire programming lineup was consistent with the standards of our seal, which embraces programming that is free of graphic and gratuitous sex, violence and profanity," said Winter.
"We have renewed our seal of approval of the UP Network every year since 2010. … We continue to work with UP and with other family-friendly networks to make sure our members, and the general public, are aware of their programming."
Scheduled to debut on UP on New Year's Day, "Bringing Up Bates" is focused around the Bates family, which is headed by Gil and Kelly Jo and includes 19 children, ages 2 to 25.
"Twenty-seven years ago, Gil and Kelly Jo Bates tied the knot with no plans to have children. Fast-forward 19 kids later, and this tight-knit group seems to define the phrase 'big, happy family,'" reads the program's description.
"Led by devoted dad Gil, 49, and mom Kelly Jo, 47, the Bates do everything in bulk, and play by the rules. That means everyone has chores to do, and TV time is limited. … 'Front hugs' are allowed on special occasions, but other than that, it's strictly side-hugs-until-marriage."
Between the conservative living and the 19 children, the Bates family has inevitably drawn comparisons to the Duggar family of the hit TLC reality TV program "19 Kids and Counting."
In a recent piece by Tierney Bricker of Eonline.com, the entertainment reporter stated that "the Duggars have some friendly competition."
"To support the family, Gil owns a tree service, which three of his sons, Lawson, Nathan and Trace, help him run," wrote Bricker.
"In addition to their 19 children, Gil and Kelly Jo recently welcomed their first grandchild, Bradley, in October, who's the child of their son, Zach, and his wife, Whitney."
"Bringing Up Bates" is not the only reality TV programming that UP TV will be debuting next year. In #Holderness, expected to be released in February, UP will give viewers a look into the lives of the Holderness family.
"Penn Holderness, a former local TV sports anchor and wife, Kim Holderness, a former local TV reporter, have used the overwhelming success of their family's lovable viral video, 'Xmas Jammies,' to launch a unique family business," noted UP TV.
Winter told CP that it's important for American viewers to support wholesome programming like that offered on UP TV.
"It is of strategic importance for those who want more family-friendly programming to support high-quality family-friendly programming that's currently in the marketplace," Winter explained. "When positive, family-friendly programming is produced with high-quality production values (good writing, acting, directing, etc.), it tends to be commercially successful. This is true not just for TV, but also for motion pictures."