Stephen Colbert Bonds With Joe Biden Over Faith, 'Late Show' Host Talks About God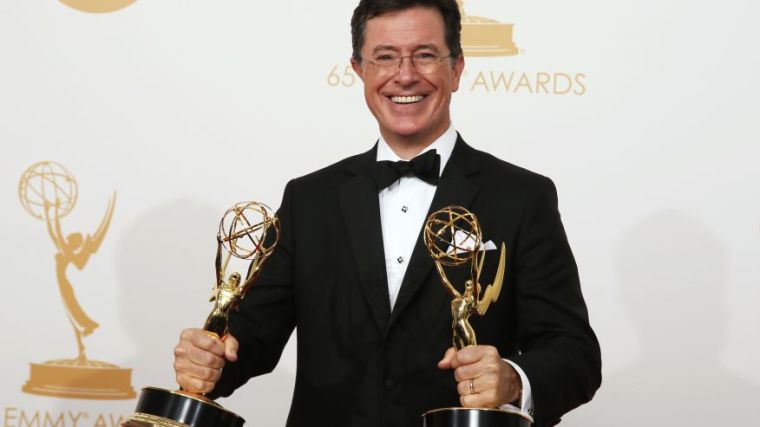 Comedian Stephen Colbert, the new host of CBS' "The Late Show with Stephen Colbert," interviewed Vice President Joe Biden Thursday night and the two men bonded over their faith in God and loss of loved ones. Colbert, despite poking fun at the Church occasionally, has always been open about his belief in God and Christian duty to serve others.
Colbert and Biden discussed various issues — the vice president could potentially run for president, but he's unsure if he's invested in the idea — but then they spoke about the death of his son, Maj. Beau Biden, who died of brain cancer in May. Colbert asked him if his Roman Catholic faith helped him get through the painful loss.
The vice president said he gets "an enormous sense of solace" from his belief in God.
"I go to mass and I'm able to be just alone, even in a crowd," he continued. "It's just a place you can go."
Colbert, who lost his father and two brothers in a plane crash when he was just 10 years old, agreed and consoled Biden in his loss.
"My mom had an expression: What's the use of being Irish if you don't know your life is going to break your heart?" the comedian said.
This isn't the first time Colbert, a devout Catholic and Sunday school teacher, has boldly expressed his faith despite his pain. In a GQ interview last month, he said his perspective since the death of his father and siblings never became "bitter" because of his faith in God.
"I'm not bitter about what happened to me as a child, and my mother was instrumental in keeping me from being so. She taught me to be grateful for my life regardless of what that entailed, and that's directly related to the image of Christ on the cross and the example of sacrifice that He gave us," the 51-year-old host explained.
"What punishments from God are not gifts?" Colbert continued, quoting "Lord of the Rings" author J.R.R. Tolkien. "So it would be ungrateful not to take everything with gratitude. It doesn't mean you want it. I can hold both those ideas in my head."
Colbert's faith, however, doesn't stop him from making jokes about the Church — but he said he would stay away from the sacraments.
"It wouldn't feel right for me, it wouldn't feel good for me, it wouldn't be obeying my own conscience," he told Father Thomas Rosica, who is affiliated with the Holy See Press Office, in an interview. "I mean, the Church is an important part of my life, I would be crazy if I didn't make jokes about it."
Though some have pointed out that Colbert's beliefs don't always line up with the Catholic Church — he doesn't believe God condemned homosexuality or same-sex marriage, while Pope Francis has repeatedly voiced his support of traditional marriage, for example — the comedian doesn't see contradiction, but complementary ideas.
"Faith ultimately can't be argued, faith has to be felt," he said. "And hopefully you can still feel your faith fully, and let your mind have a logical life of its own, and they do not defy each other, but complement each other … Hopefully I can use my mind to make my jokes, and not deny my love for God at the same time."