Stephen Colbert Invites Atheist Bill Maher Back to Catholicism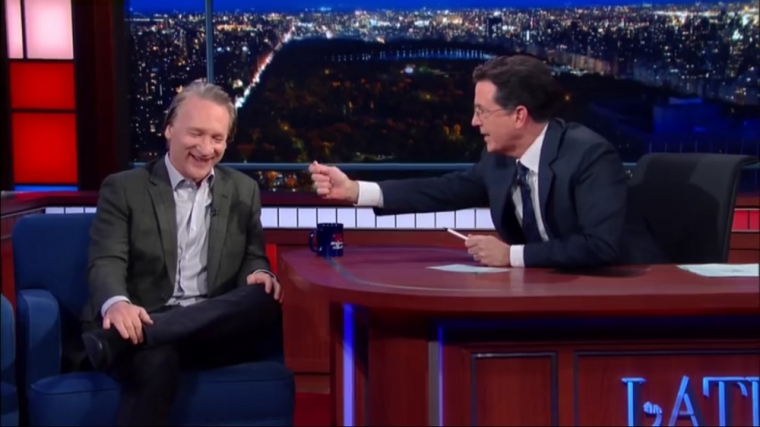 "The Late Show" host Stephen Colbert, a Roman Catholic, invited atheist HBO host Bill Maher to come back to the faith during a recent interview, which stayed a humorous tone, but also touched on more serious issues.
The two comedians took jabs at each other over their different worldviews, with Maher beginning the discussion on religion by stating that he and Colbert are "very opposite," because the latter is married and is religious, referring to his Catholic faith.
Colbert affirmed that he "gives religion a shot," stating that "I suck as a Catholic," but insisted that doesn't mean he doesn't keep practicing the faith.
Maher, who is an outspoken critic of religion, admitted that he was also raised a Catholic, to which Colbert said:
"Come on back, Bill. The door is always open! Golden ticket! Right before you! All you have to do is humble yourself before the presence of the Lord, admit there are things greater than you in the universe that you do not understand, and salvation awaits you."
Maher responded: "I do admit there are things in the universe I don't understand. But my response to that is not to make up silly stories," and added, "or to believe intellectually embarrassing myths from the Bronze Age, but you believe whatever you want."
The atheist comedian went on to suggest that the people who wrote the Bible were "men who didn't know what a germ or an atom was, or where the sun went at night, and that's where you're getting your wisdom."
Colbert laughed and said he enjoys this kind of discussion, noting that his religion teaches him "humility in the face of this kind of attack."
Maher then accused Colbert of giving him a "big lecture about coming back to the Church," though Colbert insisted he wasn't lecturing, but just giving an "invitation" - though the exchange remained seemingly humorous in nature.
"The Late Show" host has talked about his Catholicism numerous times throughout the show, and has held candid interviews with other Catholic guests about their faith, including one with Vice President Joe Biden back in September.
Maher told Colbert that the one thing he likes about Catholicism is Pope Francis, particularly for his strong stance on climate change.
During an interview with GOP presidential candidate Rick Santorum back in August, Maher asked how is it that as an atheist he agrees with the pope, while Santorum as a Catholic does not support Francis' climate change stance.
"I like the pope better than you do. You're saying the pope should stick to what he knows, and I find that ridiculous," Maher said at the time, referring to a previous suggestion Santorum made that the Vatican leader should "leave the science to the scientists" and focus more on religion.