Stephen Colbert Mocks Pope Francis' Ted Talk With Jesus Skit (Video)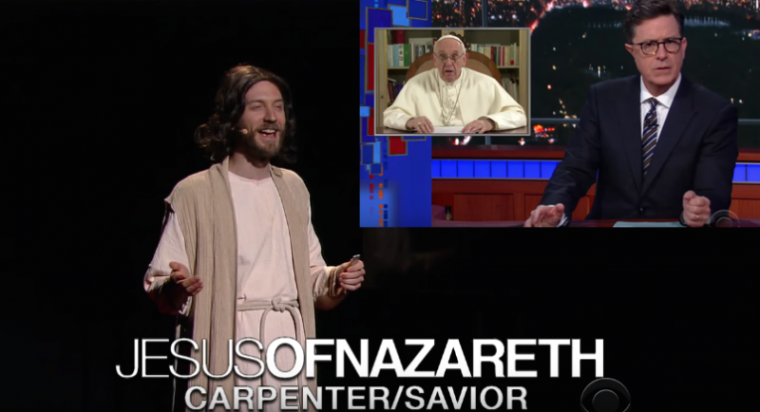 Late Show host Stephen Colbert poked fun at Pope Francis' recent Ted Talk appearance by creating his own Ted Talk skit featuring an actor playing Jesus Christ.
Pope Francis gave a surprise TED Talk at the annual TED conference in Vancouver, Canada, Tuesday night. The pontiff skyped it in from the Vatican and shared three major points that went along with the conference's theme: "The Future You."
His topics were on unity, the dangers of technology making people blind to others' sufferings, and called for a revolution of tenderness.
"I think it's impressive for an 80-year-old to set up his own webcam," Colbert joked on Wednesday's "Late Show." "It's not like he can get help from his grandkids."
After a few more malicious jokes toward the Roman Catholic leader, Colbert moved on to his main feature of the segment.
"A lot of people were surprised that the pope decided to do this, but the truth is, religious figures actually have a long history of giving TED Talks," he said before introducing his own skit featuring an actor portraying Jesus Christ.
The make believe TED Talk introduced "Jesus of Nazareth, Carpenter/Savior."
"I come here today as a simple carpenter, who also happens to be the son of God," the actor began. "But I didn't get here today through nepotism."
The Colbert skit went on to highlight a few of the miracles that Jesus performed.
"All you've got are a few loaves and couple fishes, and you have to feed a crowd of thousands. But what if I told you that you can do it! Now, I know what you're thinking: Geez, me? No, Geez-us," he punningly said.
The actor also joked about being thirsty and grabbed a bottle of water that later turns into a glass of wine.
This Ted Talk skit isn't the first time Colbert has worked Jesus or the Bible into his show. During an interview with Oprah in 2015, the two went back and forth sharing their favorite Bible verses.
"So, what's your favorite verse?" Oprah asked.
He replied, "Mine's from Matthew. I like it 'cause Jesus says, 'So I say to you do not worry, for who among you by worrying could change a hair on his head, or add a cubit to the span of his life?' What I like about it is that it's a commandment to not worry, and I'll go with that."
Colbert, then sounding very pastoral, told the billionaire philanthropist that he views that passage as a commandment to not worry. "So if you worry, you're being disobedient," Colbert declared.
A former Catholic school teacher, Colbert has openly admitted that he's raising his children in the faith.
Follow Jeannie Law on Twitter:
@jlawcp