Late Show Host Change: Stephen Colbert to Replace David Letterman
The CBS network announced Thursday that Comedy Central's Stephen Colbert will be replacing David Letterman as host of the network's "Late Show" some time next year.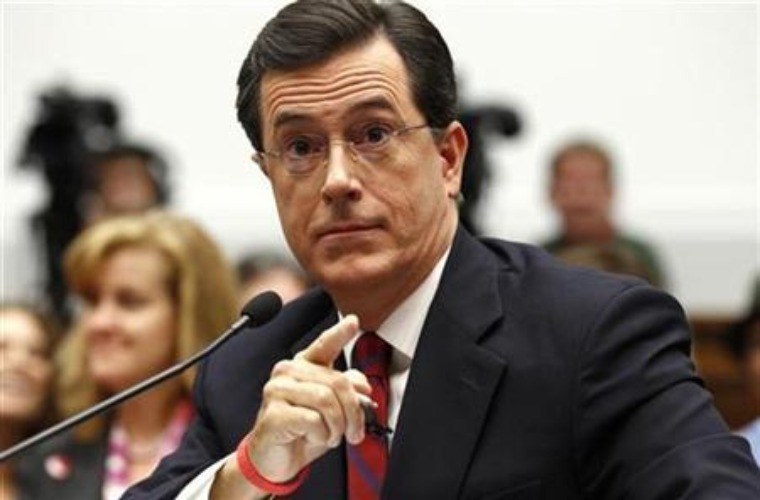 The news comes just one week after Letterman announced his retirement from a 33-year career on late night television. Eleven of those years were dedicated to Letterman's "Late Show" program on CBS, which often battled for ratings against now-retired Jay Leno's "The Tonight Show," which is now hosted by "Saturday Night Live" alum Jimmy Fallon as "Late Night."
Colbert, who currently hosts Comedy Central's "Colbert Report," said in a statement that he is "thrilled" for the opportunity to host the "Late Show."
"Simply being a guest on David Letterman's show has been a highlight of my career," the 49-year-old funnyman said. "I never dreamed that I would follow in his footsteps, though everyone in late night follows Dave's lead. I'm thrilled and grateful that CBS chose me. Now, if you'll excuse me, I have to go grind a gap in my front teeth."
Colbert's contract with Comedy Central is set to expire at the end of 2014, and media outlets are already questioning how the Comedy Central host will approach his new hosting gig. Colbert is known for playing a conservative character on his 30-minute satirical program, but he will most likely shed that persona for an hour-long talk show.
In a statement, CBS CEO Leslie Moonves described Colbert as one of the "most inventive" forces on television.
"Stephen Colbert is one of the most inventive and respected forces on television," Moonves said. "David Letterman's legacy and accomplishments are an incredible source of pride for all of us here, and today's announcement speaks to our commitment of upholding what he established for CBS in late night."
CBS added in a statement that the new "Late Show's" producers, creative element, and location has yet to be announced.
As Variety points out, Colbert will have to be up for the challenge of fighting the late night programming war that involves multiple networks vying for young audiences by using younger hosts. Currently, ABC has Jimmy Kimmel for their late night program, and NBC has Jimmy Fallon. "Colbert will have to hit the ground running, mastering a new format while trying to maintain the current fan base that has made his 'Colbert Report' a mainstay for the Viacom-owned network."
CBS Entertainment Chairwoman Nina Tassler added in a statement: "Stephen is a multi-talented and respected host, writer, producer, satirist and comedian who blazes a trail of thought-provoking conversation, humor and innovation with everything he touches."
"He is a presence on every stage, with interests and notable accomplishments across a wide spectrum of entertainment, politics, publishing and music. We welcome Stephen to CBS with great pride and excitement, and look forward to introducing him to our network television viewers in late night."