Strip Club Ad Posted Above NYC Church Comes Down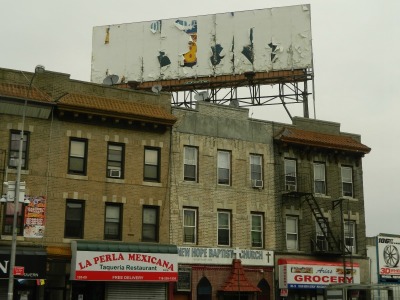 A billboard advertisement for a New York City strip club that was posted above a storefront church has been taken down.
The advertisement for Roadhouse NYC, a self-described "upscale gentleman's club," was set up on a billboard that stands above the building where New Hope Baptist Church meets in the Corona neighborhood of Queens. Community leaders, including New York State Senator José Peralta, decried the sign's placement and message.
"Common sense and decency have prevailed," said Peralta in a statement. "Like everyone else that I spoke to who had seen the billboard, I thought that the female pictured looked far too young to be featured in an ad for a strip club. It was a jarring image that was offensive and sickening. That it sat above a church was an especially twisted mockery."
The billboard is located in a neighborhood that is trying to deter sex crimes, Peralta said, which also makes it an inappropriate location for such an advertisement.
"It was definitely surprising, first and foremost, that it was up by that neighborhood," he told 1010 WINS. "In a neighborhood where we're fighting human trafficking, where we're fighting against prostitution, to see this type of billboard up was despicable."
A manager at Roadhouse NYC, which opened in August, told the New York Daily News last week that he didn't know the sign had been posted above a church and apologized.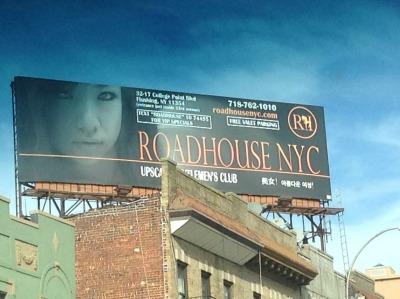 Ken Bove, president of DCW, the advertising firm used by the strip club, also told the publication he was unaware the billboard was located over a church. The company would have never knowingly placed the advertisement there, he said before stating that it would be taken down.
Robert Burkett, pastor of New Hope Baptist, told the Daily News he was "disgusted" by the sign's placement over his building.
"I don't want to advertise strip clubs, bars or none of that," he told the publication. "I'm [trying] to get people out of that lifestyle - not indulge in it."