Supernatural Miracles Are Happening Today More Than Many Realize, John Piper Says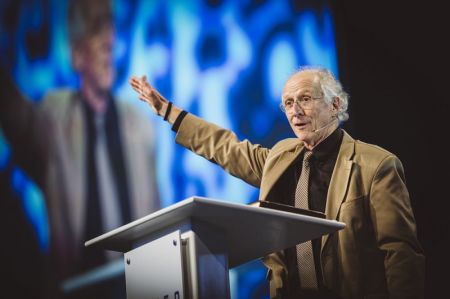 Divine miracles are not as numerous in the Bible as one might think and more miraculous acts are in fact occurring around the world more often than people realize, according to John Piper.
In a Monday episode of Ask Pastor John, the Reformed theologian and author responded to an Ivy League freshman whose classmates ask him things like 'Why doesn't God work overt miracles today in twenty-first century America like he did in both the Old and New Testaments? Doesn't it seem convenient that God only worked miracles in the Bible?' This freshman's parents are missionaries in a former Soviet bloc country and the difference between life on the mission field and student life on a secular university campus is "night and day," he explained.
Piper explained that "there were fewer miracles in the Bible than you probably think, and there are more miracles today than you probably know, and there is a good biblical reason for why there would be a certain kind of prevalence of miracles in the Bible that is different from today."
"It's simply a great mistake to think that there are miracles running all through the history of God's people as the Bible records it. They were not running all through the history of God's people. They sprung up around certain periods of time like the exodus and like the ministries of Elijah and Elisha," he said of the miraculous interventions in the Old Testament.
Most of the heroes of the faith before the time of Christ lived by faith in God's promises that they never saw come to fruition, a faith grounded in what God had done in the past, he went on to say. Such is life today, he continued, as Christians await a coming Kingdom "that's yet to be consummated, by looking back to the decisive work of Jesus Christ in the Bible."
"When it comes to the New Testament, it is gloriously true that Jesus did miracles perfectly and consistently, though even he raised only three people from the dead and didn't heal people in many places where he traveled or where he didn't travel," he said.
"Not only that, but Jesus himself explains his own miracles as pointing to his divinity. In other words, something about these miracles attached to him and you wouldn't expect them to attach to other people in the same way."
Although Jesus empowered his disciples to work miracles they knew Jesus was unique, he maintained, that his divine power rested in the fact that he was the Son of God.
"When you turn to the book of Acts and the rest of the New Testament, it's obvious that the apostles did some astonishing miracles, but it's also true that they suffered much and their colleagues got sick. Paul carried a doctor around with him. They got thrown into prison. They got killed."
Piper holds to a view that is known as continuationism, that miracles did not cease with the death of the last apostle or the closing of the canon of Scripture and that they continue to happen today. What are known as cessationists believe the opposite perspective.
"If we could collect all the authentic stories all over the world — from all the missionaries and all the saints in the all the countries of the world, all the cultures of the world — if we could collect all the millions of encounters between Christians and demons and Christians and sickness and all the so-called coincidences of the world, we would be stunned. We would think we were living in a world of miracles, which we are."
Atheist turned Christian author Lee Strobel, whom The Christian Post interviewed in March, recounted that for his latest book, The Case for Miracles, he hired Barna Group to research and unpack the attitudes of Christians about miracles and the supernatural. They found that 38 percent of respondents reported having an experience in their lives that they could only attribute to a miracle of God and that approximately two thirds of those surveyed said they believed miracles were possible today.
"We live in a period of time precisely where suffering is normal," Piper concluded.
"Nevertheless, God does now and then, and sometimes regularly in periods of revival, use his power to perform, according to his sovereign will, miracles for his people. Why he doesn't do it more now than he does is partly (perhaps) owing to our lack of expectancy and faith, but is ultimately owing to his sovereign decree."