Supreme Court Same-Sex Wedding Cake Ruling: What About Other Cases on Christian Dissent to Gay Marriage?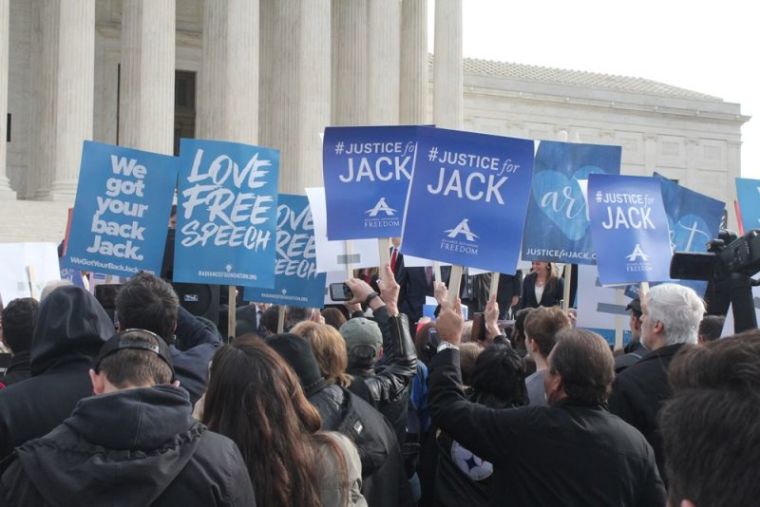 Although the United States Supreme Court ruled in favor of Colorado Christian baker Jack Phillips, the court did not definitively rule whether baking a cake for a same-sex wedding constitutes speech and still leaves questions about how other cases involving Christian business owners and same-sex weddings will play out, lawyers say.
The nation's high court ruled 7-2 on Monday in favor of the owner of Masterpiece Cakeshop in Lakewood, who faced backlash from the Colorado government after he refused to bake a cake for a gay wedding in 2012.
Although Phillips' six-year legal battle has seemingly come to an end, there are other Christian business owners throughout the country who are still in the middle of their own legal battles and still seeking relief after being punished for refusing to service same-sex weddings.
Even though the court ruled in favor of Phillips, it did so on the grounds that the Colorado Civil Rights Commission's treatment of Phillips was so overtly hostile towards his religious viewpoint and did not act in a neutral manner when it weighed his case.
Alliance Defending Freedom Attorney Kristen Waggoner, who defended Phillips in the case, admitted in a call with reporters on Monday that the court's decision didn't necessarily speak to the overlying issue at hand.
"The court said that the [government's] hostility was so open and obvious ... that [the court] didn't need to reach the issues related to whether Jack's cakes are speech and how that would play out," Waggoner said, adding that the court left such questions "open for another day."
"I think it leaves the question of how the courts will balance those [other cases] still in debate," Waggoner added. "There are a number of cases being litigated in the courts of appeal dealing with this very issue — videographers, filmmakers, hand painters and calligraphers. Those cases are in courts of appeal right now. We expect the court will eventually have the grapple with those issues but the hostility was just so overt here that it didn't need to reach it to rule on Jack's behalf."
The American Civil Liberties Union, which represented gay couple turned down by Phillips, asserted in a statement that court's decision was based on "concerns unique to the case."
ACLU Deputy Legal Director Louise Melling argued that the court actually "reaffirmed its longstanding rule that states can prevent the harms of discrimination in the marketplace, including against LGBT people."
"Today's decision means our fight against discrimination and unfair treatment will continue," Charlie Craig and Dave Mullins, the gay couple turned down by Phillips in 2012, said in a joint statement. "We have always believed that in America, you should not be turned away from a business open to the public because of who you are."
On the press call, Waggoner discussed how the court's decision in Masterpiece Cakeshop v. Colorado Civil Rights Commission could impact other cases that are pending before the U.S. Court of Appeals.
Specifically, she addressed the case of Christian grandma florist Barronelle Stutzman, who appealed to the Supreme Court last year as she faces crippling fines from the state of Washington for refusing to provide floral arrangements to a gay wedding of one of her longtime customers.
"It is always difficult to predict what the court will do but one possibility is that it would send [Stutzman's case] back down to the Washington Supreme Court to re-examine its decision in light of Jack Phillips' case," Waggoner said.
Waggoner said that there is also evidence to argue that there was similar government hostility present in Stutzman's case, noting that the Washington state attorney general took unprecedented action when he bypassed the state human rights commission and directly filed case against Stutzman.
Because of the attorney general's prosecution, Stutzman could lose all her personal assets.
Lawyers for Aaron and Melissa Klein, who closed down their bakery in Oregon after being fined over $135,000 by the state for refusing to bake a cake for a same-sex wedding in 2013, are optimistic about their clients' chances going forward.
The Kleins' case was appealed to the Supreme Court of Oregon in March after the couple suffered a loss at the state court of appeals in December.
"The Oregon Bureau of Labor and Industries (BOLI) decision against the Kleins was tainted by the same anti-religious bias that caused the U.S. Supreme Court to rule for Masterpiece Cakeshop on Free Exercise grounds," Adam Gustafson of Boyden Gray & Associates said in a statement. "This anti-religious bias is evident in Commissioner [Brad] Avakian's Facebook post about the Kleins' religious beliefs, the commissioner's decision to award damages for Aaron Klein's quotation of Scripture, and the outrageous magnitude of the $135,000 damage award."
Waggoner told reporters that the court's decision in Phillips' case is consistent with its other rulings pertaining to religious freedom, including its ruling last year in the Trinity Lutheran case.
"Certainly this case will affect a number of cases for years to come in free exercise jurisprudence," Waggoner said. "That is how the court's decisions work. Again, in other recent decisions like our Trinity Lutheran decision that we won last year, that court is constantly telling the government that you cannot treat people of faith differently than others in the marketplace. You cannot express hostility towards them just because the government disagrees with their viewpoints. This decision today affirms that again."
In an op-ed published by USA Today, Phillips expressed joy with the court's decision.
"Now that the decision has arrived, I can see the sun once again," Phillips wrote. "The Supreme Court affirmed that the government must respect my religious beliefs about marriage. It welcomed me back from the outskirts where the state had pushed me. At least for the moment, it has brought an end to my storm."
The court's decision Monday has spurred reactions from a number of prominent religious conservatives.
Tony Perkins, president of the Family Research Council, stated that the court's ruling is a "victory" for "our nation's long cherished freedom of following one's deeply held beliefs without fear of government punishment."
"The Supreme Court made clear that the government has no authority to discriminate against Jack Phillips because of his religious beliefs," Perkins stated. "Misguided government officials singled out Jack's religious beliefs for discriminatory treatment — but that isn't freedom, it's tyranny."
Robert Jeffress, the pastor at First Baptist Dallas and a prominent evangelical supporter of President Donald Trump, issued a bold statement when claimed that Monday's decision essentially guaranteed Trump re-election in 2020.
"Today #SCOTUS guaranteed reelection of Pres. @realDonaldTrump by protecting religious right of baker to not participate in a gay wedding," Jeffress tweeted. "@POTUS promised to protect religious liberty. This is the most consequential [example] of 'promise made, promise kept.'"
Attorney General Jeff Sessions, who issued a wide-ranging guidance on religious liberty last year, also praised the ruling in a statement. Last year, the Justice Department submitted a brief to the court in favor of Phillips.
"We are pleased with today's Supreme Court decision," Sessions stated. "The First Amendment prohibits governments from discriminating against citizens on the basis of religious beliefs. The Supreme Court rightly concluded that the Colorado Civil Rights Commission failed to show tolerance and respect for Mr. Phillips' religious beliefs."