Survivors of sexual abuse share their stories at SBC's 'Caring Well' conference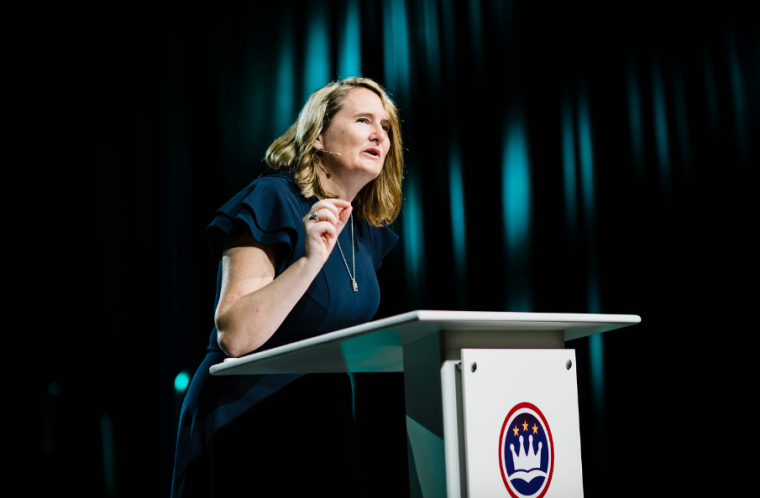 Mary DeMuth, an author and survivors' advocate, explained the sexual abuse that began when she was 5 years old.
"My father was my first groomer, and this is what he thought of me," she began, sharing a photo of herself as a child standing next to a bin reading "manure only."
After kindergarten was completed for the day, she stayed with a baby sitter, Eva, who pushed her outside whenever two teenage boys knocked at the door, DeMuth recalled. 
"Eva was this angry woman who hated children," she said. "Those boys were new predators, so there was no grooming although I had been groomed by my father."
The boys threatened to kill her family if she told anyone about the abuse, so DeMuth didn't tell anyone about what she endured. 
The boys raped her and continued to do so as the days passed before eventually inviting others to join them in assaulting her. 
"And finally as other people started joining in, I thought to myself, 'I'm going to die,'" DeMuth said.
She told the baby sitter, who said, "I will tell your mom."
"At the end of those five words," I thought I had been saved," DeMuth recalled. However, the very next day, the boys knocked at the door, Eva pushed her outside, and the abuse continued. 
"Eva preferred complacency to decency," she said. "It was only later that I learned she didn't tell my mom."
The abuse continued, and "as a 5-year-old girl, I thought to myself, 'There is not one human being on this earth who will protect me,'" DeMuth told attendees. "[The baby sitter] would grandstand her innocence while bystanding the broken. And she is a very sad picture of what the church has sometimes become today in institutional protectionism.
"Our complacency for those who are wounded in our midst must change," she said. Churches should "look to the vulnerable as those who have a gift to give. We are not a drain on your resources. We are a gift to you."
"This is an us problem," she declared. "As human beings, we need to get down on our knees before our fellow brothers and sisters and say, 'on behalf of those who have harmed you, will you please forgive us.' This is a holy moment. This is our waking moment to wake up to the fact of the beauty of Jesus Christ who suffered and died for all that we have endured."
The compassion we show on earth, DeMuth said, "is our rehearsal for Heaven."
"We better love well now," she concluded.