Survivors of sexual abuse share their stories at SBC's 'Caring Well' conference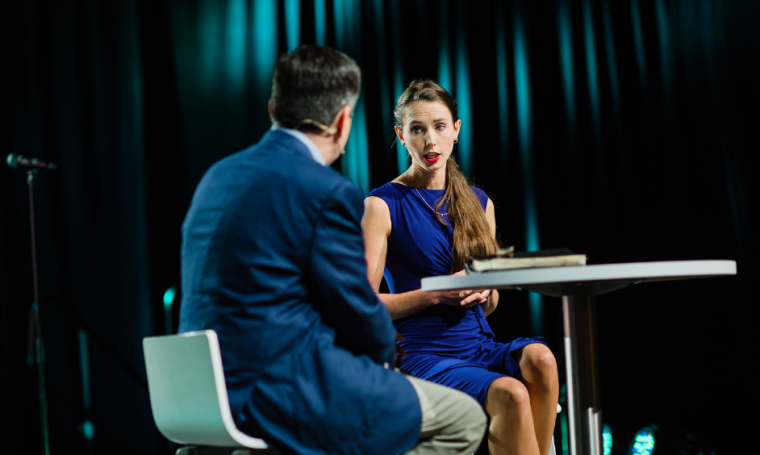 Rachael DenHollander, an attorney and former gymnast, shared her story of abuse during a conversation with Russell Moore, president of the Ethics & Religious Liberty Commission.
While she is best known as the first person to publicly accuse former Michigan State physician Larry Nassar of sexual abuse, DenHollander revealed the first time she was abused was in a church at age 7.
"By 8 years old, I was left reeling from abuse that I did not understand," she said. "That really set the stage for what happened later, because the message I internalized as an 8 year old from my church was, 'if you cannot prove your abuse, don't speak up, because it will cost you everything."
DenHollander said she "carried that mentality" into the Michigan State University sports medicine clinic exam room, where she was sexually assaulted by Nassar when she was 15 years old. 
"He was a very skilled sexual predator," DenHollander said, adding Nassar abused her for the next two years. 
"Over the next 16 years, it was a very long journey of walking toward healing, of wrestling with my faith, wrestling with concepts of justice and forgiveness and how they intermeshed," she said. 
DenHollander said she feared that if she spoke up against Nassar and failed, he would be "empowered" to continue his cycle of abuse. In 2016, she decided to report Nassar after reading an IndyStar report on USA Gymnastics burying reports of abuse. It encouraged readers to send tips on other cases.
Still, despite the support of her family, friends, a prosecutor who cared, and a team of journalists watching the entire case, DenHollander said coming forward was still difficult. She challenged the audience, "imagine what it cost the survivors who don't have anything. I want you to hear your voice because they need you."
"The SBC has, over and over and over again, trampled on these precious (abuse) survivors, and that is why they are afraid to speak up — that fear is deserved," she continued, revealing such cases still happen today.
She cited the story of LifeWay executive Jennifer Lyell, who came forward in March to accuse Southern Baptist Theological Seminary professor David Sills of sexually abusing her. 
DenHollander argued that the church and the Baptist Free Press did not do enough to protect Lyell's story.
DenHollander said it is up to the SBC to assure that its leaders do not "trample on survivors" and to make sure that the truth is told. 
"When you do, you are meddling in a matter of life and death," she stressed. "Because sexual assault survivors are six times more likely to suffer from PTSD, 26 times more likely to have substance abuse, and four times more likely, at a minimum, to attempt suicide. The extent to which they heal is directly related  to the response they receive when they speak up."
"We are made in God's image," DenHollander said. "We need to treat each other as if we're made in God's image. That means taking our failures seriously, that means repenting of where we have erred."