Susanna Wesley, Joan of Arc, Rosa Parks and Other Ordinary-Extraordinary Women God Used to Change the World
NEW YORK — In Seven Women, author Eric Metaxas offers up little-known details about the inspiring lives of seven women, including Susanna Wesley, mother of vastly influential Christian ministers John and Charles Wesley; Joan of Arc, the teen martyr who changed the course of a war with claims of being guided by "voices;" and Rosa Parks, whose decision to say "no" led to her becoming the "Mother of the Civil Rights Movement."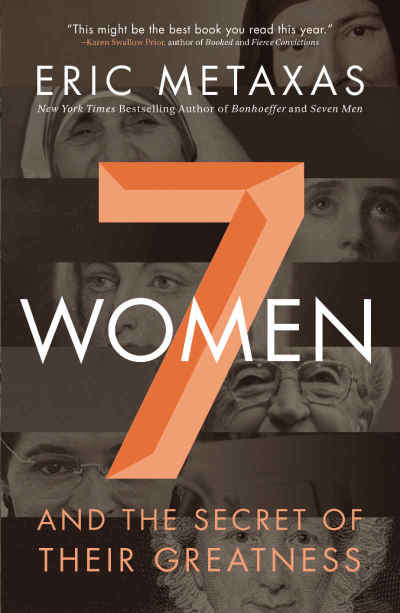 Wesley, known as the "Mother of Methodism," was a dedicated homeschooler who created her own textbooks. She "was manifestly methodical in raising her children," Metaxas writes. Wesley's methodical approach to child-rearing included setting strict schedules on everything from eating and dressing to sleeping. She also taught her 10 children (nine others died in infancy) early on to fear God, seek His blessings and to treat others with kindness.
The foundation Wesley laid for her children proved especially pivotal in the lives of her sons, John and Charles, the former of which founded the 80-million-strong Methodist denomination while the latter is credited with writing nearly 9,000 hymns (the Christmas favorite "Hark! The Herald Angels Sing" is one of them). John and his politically-minded Methodist movement were instrumental in pressuring the British government to abolish slavery and child labor and to enact penal reform. The religious movement also led to the "establishment of countless private societies and organizations dedicated to caring for the poor and suffering."
One particular aspect of the Wesleys' lives that may not be common knowledge is that for a brief time, the family lived with what the historical record presents as a rather cantankerous poltergeist. This "spirit" or "apparition," as Susanna described it in one letter, was likely a "demonic disturbance," according to Metaxas.
Then, there is Joan (Jeanette) d'Arc, a poor 15th century Roman Catholic teen who was moved to abandon her family's simple farm life to lead soldiers on the battlefield during a brief segment of the Hundred Years' War. At the age of 12, Joan became convinced that she had been receiving "messengers from Heaven" who at the onset encouraged the young girl in her faith, according to Metaxas. Years later, a 16-year-old Joan believed the "voices" were now giving her specific instructions on where to go and whom to speak about liberating France from England's military advances.
Her voices were correct and her mission proved successful, mostly for her homeland but not very much for herself. Joan was awarded for her sacrifice and obedience to God by being labeled a heretic, a witch, a blasphemer, and other choice names by a malicious contingent of religious and political leaders.
Metaxas suggests in Seven Women that envy and a thirst for revenge on the part of the judge overseeing her "sham" trial was the motivation for Joan to be burned at the stake. The 19-year-old former peasant girl died with her eyes resolutely focused on a cross. The last word witnesses claimed they heard her utter as she burned to death was, "Jesus!"
"She was wise beyond her years and yet innocent; she was strong and vulnerable; she was bold and humble. She was all these things at once, and she seemed to embody France itself, and hope itself too," Metaxas writes.
It would take 18 years for Joan's case to be reviewed and nullified, while it only took only about another five hundred years for the young Roman Catholic martyr to be beatified and later canonized as a saint.
There are no doubts about Joan of Arc's exploits, as they are well-documented. So presumably, there should be no doubts about her heavenly messengers or the source of her voices — or doubts about what Metaxas suggests was a demonic disturbance in the Wesley's home.
But how can a skeptic get something meaningful out of a story belonging to someone like Joan of Arc, whose entire testimony is framed by the supernatural?
"I think the issue is that we can't worry so much about the skeptics that we don't report," Metaxas told The Christian Post. "You have to report what people [experienced] when there's incredible corroboration for these things. When something can be corroborated by so many eyewitnesses, I think the onus is on the person who is being skeptical or doubtful to say, 'Well, then what do you make of this? Did they all lie? Did they all perceive things wrong? What do you make of it?' Because I say that these things, it seems that they did happen."
In Joan of Arc's case, "it's either God speaking through the angel … or it's demonic forces," he added.