Suspected Suicide Bomber, Akayed Ullah Causes Explosion in 'Attempted Terrorist Attack' in NYC Subway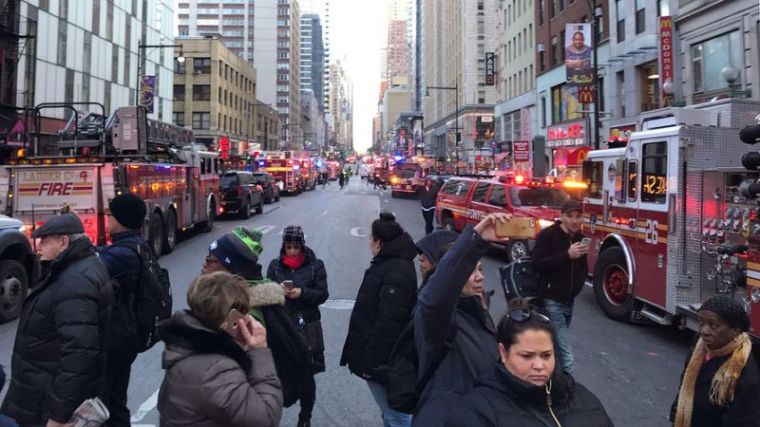 NEW YORK – Four people were injured Monday morning after a suspected suicide bomber armed with a "low-tech device on his body" caused an explosion in "an attempted terrorist attack" that sent commuters scrambling at The Port Authority Bus Terminal in Times Square.
The attack forced Port Authority officials to shut down service in Times Square "temporarily" and led Mayor Bill De Blasio to thank God several times as he acknowledged it was an attack that could have been much worse.
"Let's be clear, as New Yorkers our lives revolve around the subways. When we hear of an attack on the subway it is incredibly unsettling. And let's be also clear, this was an attempted terrorist attack. Thank God the perpetrator did not achieve his ultimate goals. Thank God our first responders were there so quickly to address the situation to make sure people were safe. Thank God the only injuries that we know at this point were minor," De Blasio said at a press conference.
Police Commissioner James P. O'Neill said the NYPD was alerted of an explosion inside the subway at 42nd Street and 8th Avenue at about 7:20 a.m. When they responded to the scene they found suspected suicide bomber Akayed Ullah, 27, suffering from injuries to his body. He was also wearing an improvised low tech device on his body. The device that was affixed to his body with Velcro and zip ties, NYPD deputy commissioner John Miler said.
"He intentionally detonated that device," O'Neill said of the suspect who was arrested and transported to Bellevue Hospital.
An ABC7 report said Ullah has an address in Brooklyn but is originally from Bangladesh. He has been living in the country for seven years.
Speaking on MSNBC's "Morning Joe," former NYPD Commissioner Bill Bratton, said the suspect "supposedly was setting the device off in the name of ISIS, so definitely a terrorist attack, definitely intended." Officials declined elaborating on this Monday.
A senior emergency official told The New York Times that the suspect was seriously injured. The Metropolitan Transportation Authority said several train lines were skipping stops at 42nd Street as a result of the explosion.
Francisco Ramirez told CNN that he heard two explosions as he was exiting a bus around 7:45 a.m.
"From what I saw it sounded like it came from the subway, but I'm just guessing," he said. "It was two distinct explosions seconds from each other. As I was making my way toward the outside, I kept getting shoved by cops and there were cops at every entrance blocking and there was police and SWAT everywhere. It was scary. It was just a lot of chaos but I didn't see any injuries."
Andre Rodriguez, 62, a caseworker at a local shelter, told The New York Times that he heard an explosion shortly before 7:30.
"I was going through the turnstile," he said. "It sounded like an explosion, and everybody started running."
Alicja Wlodkowski, 51, said she was inside a restaurant at the Port Authority when she saw a crowd of people running.
"A woman fell, and nobody even stopped to help her because it was so crazy," she said. "Then it all slowed down. I was standing and watching and scared."