Swiss Train Collision: 44 Injured in Head-On Crash (VIDEO)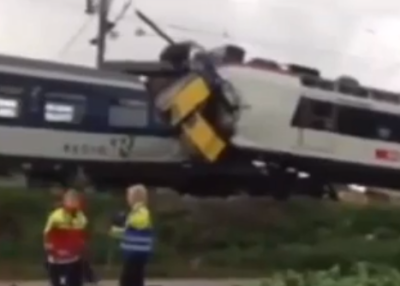 A head on collision involving two commuter trains in Switzerland has resulted in the injury of 44 people.
The collision occurred between the cities of Moudon and Payerne at about 6:50 p.m. local time, reports said. It is unclear at this point what caused the collision to occur.
"We don't know why this crash happened," Swiss Federal Railways spokesman Reto Schaerli told CNN. "There is currently no train service between these two cities until midnight tonight at least."
At least four people were injured critically, but little information is known at this point. Workers were still attempting to recover at least one person involved in the collision, the Associated Press reported. The collision occurred just days after a train in Spain derailed, leaving 79 dead. The accident was blamed on the train's driver, Francisco Jose Garzon Amo, who was allegedly driving the train too fast. The train tumbled off the tracks at speeds of over 50 mph and crashed into a concrete wall.
Amo was charged Sunday with multiple charges of negligent homicide. The train was carrying 218 passengers at the time of incident. Some train cars caught fire as a result of the impact. According to passenger's who overheard Amo directly after the incident occurred, the driver was aware that he needed to slow down but claimed that he was unable to brake.
"He told us that he wanted to die," resident Evaristo Iglesias, who accompanied the injured driver to safer ground, told Antena 3 television. "He said he had needed to brake but couldn't."
"'I don't want to see this, I want to die,' that's what he said repeatedly," Iglesias recalled. "'I had to brake down to 80 and couldn't."
Investigators are still in the process of recovering information from the Swiss collision and discovering what might have been the cause.
Switzerland Train Crash: Dozens Injured After 2 Swiss Trains Collid