Syrian Women Risk Their Lives to Expose Shocking Horrors of Daily Life Under ISIS Rule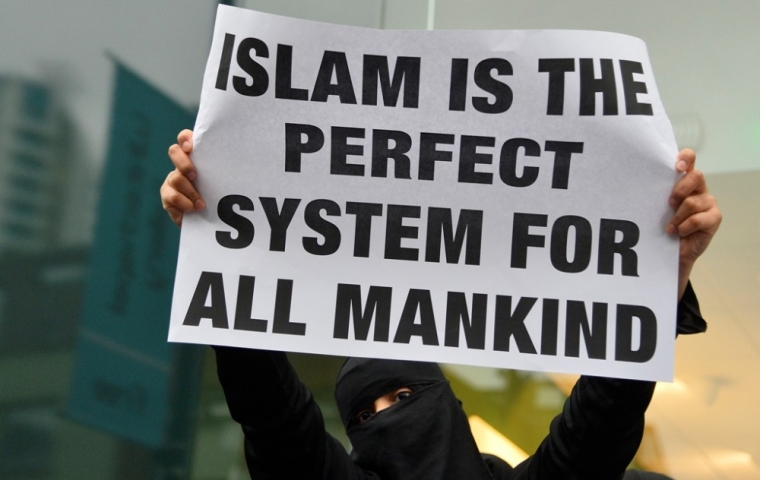 Mohammed explained that she was on her way to the market when her bus stopped and couldn't go any further because there was a public execution taking place in the street. The video cuts to footage of a man being executed by four or five different militants dressed in black.
"I could see there was a man sitting on the ground. It was a young man. He was a soldier. He sat there and they placed knives beside him. The executioners were lined up," Mohammad explained. "Each and everyone fired at him with four or five shots. He died and they eventually beheaded him."
It has been reported that IS often drugs its prisoners before their executions to keep them calm, and Mohammad's testimony seems to line up with past reports.
"He had a knife to his neck and a weapon to his head but he just sat there peacefully. He didn't move. He didn't breathe," she said. "It felt as though he wasn't even frightened — as if he was dead before the slaughtered him. He sat there completely still and without any reactions at all. There are rumours that prisoners are injected with sedatives."
Mohammad further detailed how IS militants in Raqqa usually carry out their executions, stating that militants often kill the victims by shooting them and then mutilate their bodies by decapitation or by throwing the bodies in the street and making cars run over them.
"They execute with bullets, desecrate the body, decapitate it, stick the head on a spike and put it on display in the roundabout," Mohammad said. "Some bodies are laid out on the road. Then they force cars to drive over them until there's nothing left of the body. The body becomes like a rag."
The women then visited a roundabout where the terror group tends to execute women by stoning them to death. Women are often stoned to death when they are accused of committing adultery or having extra-marital sex.
"They don't say what the woman's crime is. If they're going to stone her to death, they ask people to come to the roundabout to witness the execution. They let people come here and bring stones. When the Wāli (governor) throws the first stone, the others start throwing theirs."
As for women, it doesn't take much for them to violate the Shariah dress code. In order to police Shariah law, IS uses an all-female police force, which is mostly run by radicalized foreign females, called the Al-Khansa brigade.
In the past, women have been tortured and even killed by the police force for not covering their face properly or for breastfeeding in public.
"If I go out into street wearing high heels, colored clothes and show my eyes, she will come over," Mohammad said. "Of course armed and wearing a uniform, she will throw me in a car. Unlike Syrian women, foreign women have more power and a higher status. A Syrian ISIS member might look the other way when it comes to the way we dress. But foreign women are tougher."
As IS rose to power in the town, the women explained that many of IS' foreign fighters were housed in the Thieves' District of the city, an area where there are bigger, more luxurious homes. Upon taking over the town the militants either killed the homeowners or forced them to flee after condemning their homes.
"As these buildings were luxurious, they were occupied by foreign fighters," Omran said. "They are from Kazakhstan, Afghanistan, Saudis, Europeans from places like France. There is no country they have not come from."
Because IS has forced its radicalized version of Islam onto the residents of Raqqa, the women say that many Muslims in town have grown to hate prayer.
"People don't want to pray any more," Mohammad said. "They are forcing people to do it. They've driven people to hating prayers."
Although many residents in Raqqa long to flee from IS, Mohammad explained that IS militants often set up checkpoints in town where they force residents to turn over their identification papers so that militants can use them when they leave the caliphate themselves.
"What do they do? They take the civilians ID cards," she stated. "They confiscate them. Why? They confiscate ID Cards so they can use them when they flee to Turkey."
Like many others in Raqqa, both Omran and Mohammad desire to one day flee from the wrath of IS' rule.
"I long to take off the niqab and the darkness that cloaks us for good. I can't wait to dress the way I used to in the past, to be able to go out in the street without being scared and without seeing weapons or foreigners with beards that look scary," Mohammad added. "I want to live the way I want, buy what I want. I want to go out alone, free, without a guardian with me. Nothing matters more than freedom."