T.D. Jakes Blasts 'Social Media Vigilantes' Who Use Lord's Name to Slander Believers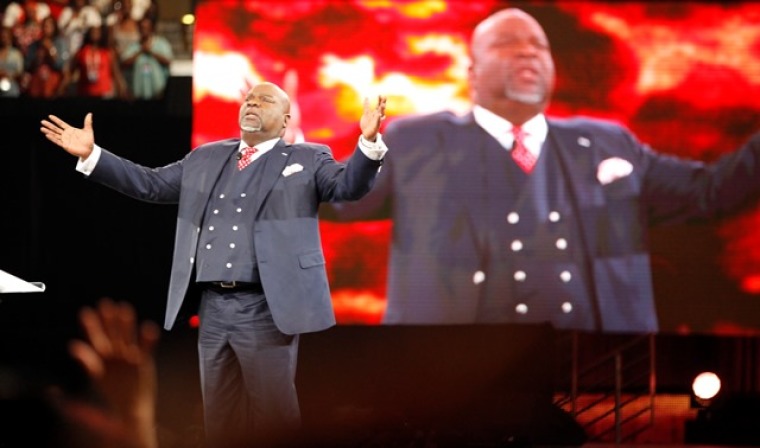 Christians who use social media to criticize and tear down other believers are not repesenting Jesus Christ, says Bishop T.D. Jakes.
During an interview with the Christian Broadcasting Network, the senior pastor of The Potter's House Church in Dallas, Texas, expressed his frustration over the erratic behavior of some Christians who use Twitter and Facebook to attack other people.
"We have social media vigilantes who are out there killing other Christians in the name of the Lord in a way that does not represent Christ. Those things really trouble me," said Jakes.
The bishop also said he hates that Christians are not "more loving" and "gentle" when presenting Jesus Christ to people, and that there are some believers who think that "the more rude they are, the more spiritual they are."
Jakes also revealed his favorite Bible verse, Psalm 27, during the interview and shared something that he's praying to see happen in his lifetime.
"[I'm praying] my children all find their place in the Kingdom [of God]. I'm seeing a lot of that happen," said Jakes, who hosted his MegaFest conference in Dallas two months ago, has started a new talk show and released a new book, titled  Destiny
Jakes wrote the book to answer questions people have about finding their purpose in life and used his own experiences to provide insight on the topic. He spoke with CMC News about the book earlier this year.
"Destiny speaks to an expected end. It speaks to the end of a thing. When the Bible talks about predestined, it means that God has determined the end from a beginning. I'm not talking about the theology of it. I'm talking about the Word itself," said Jakes to CMC.
" ... I wrote about Destiny so that we might have the expected end [that is found] in the book of Jeremiah that said that God's thoughts toward us were not evil, but good. That we might have an expected end. And I think that people are not intentional about destiny and how to achieve it and that we need to cooperate with it."
Jakes said he came to a point in his life where he made the decision to be more intentional about lining up with the plan God has for him. He now shares that experience with his children and congregation on a regular basis and hopes more people will cooperate with their destiny after reading his book.