Tasha Cobbs-Leonard Declares God's Blessings in Powerful GMA Performance (Video)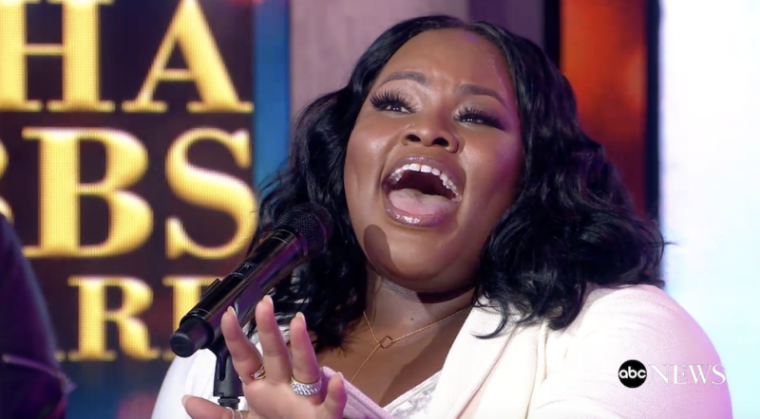 Gospel singer Tasha Cobbs-Leonard kicked off the new year declaring God's blessings in the middle of Times Square on ABC's "Good Morning America" with a powerful performance of her single, "I'm Getting Ready."
"I'm Getting Ready" has been generating buzz since Cobbs-Leonard performed the hit song on BET's "Black Girls Rock" last year. The singer added to the hype at the top of the year and even before she performed the song live on GMA on Jan. 4, host Robin Roberts said that everyone in the studio was already so moved just by her soundcheck.
"Oh my goodness, your soundcheck just stopped everybody early this morning," Roberts said to Cobbs-Leonard live on TV from the New York studio. She then asked the singer to describe what it is about the song that has such a huge impact.
"It introduces God to people in a situation that they may have thought they were alone and that they may have thought that they couldn't get out of. But this song says I'm getting ready to see something I've never seen," Cobbs-Leonard said.
Featured on the inspiring track is mainstream rapper Nicki Minaj, which Cobbs-Leonard told GMA only happened because of the power of social media.
Last year, Minaj publicly asked Cobbs-Leonard to collaborate through an Instagram post.
"@tashacobbsleonard when you finish recording the album, come to my studio so I can put a 16 on one of these songs miss thang," the rapper commented on a video of Cobbs-Leonard recording new music on Instagram last May. "Can't wait for this to drop!"
Minaj first became a fan of the soulful singer two years ago after watching BET's televised gospel music event, "Celebration of Gospel 2014," where she saw Cobbs-Leonard and Jonathan McReynolds perform. Since then, she has shown her public support and admiration for the gospel music star.
Cobbs-Leonard's hit album, HEART. PASSION. PURSUIT. was the longest-running No. 1 gospel album in 2017, spending a total of 10 weeks in the top spot on Billboard's Top Gospel Albums chart. Immediately following her GMA performance, both the album and single again rocketed to No. 1 on iTunes Christian & Gospel charts, and to the Top 20 Albums Chart across all genres.
While on the show, Cobbs-Leonard also shared a second song, "You Know My Name," which will be featured exclusively on abc.com.